Find The Best Wood Slabs for Epoxy Resin Wood River Tables For Sale, Desks, Countertops, Bar Tops, and Headboards
Ready to get started on your river table? Not so fast. Let's go over some ground rules so you don't have to go through three or four very expensive wood slabs before you finally get it right.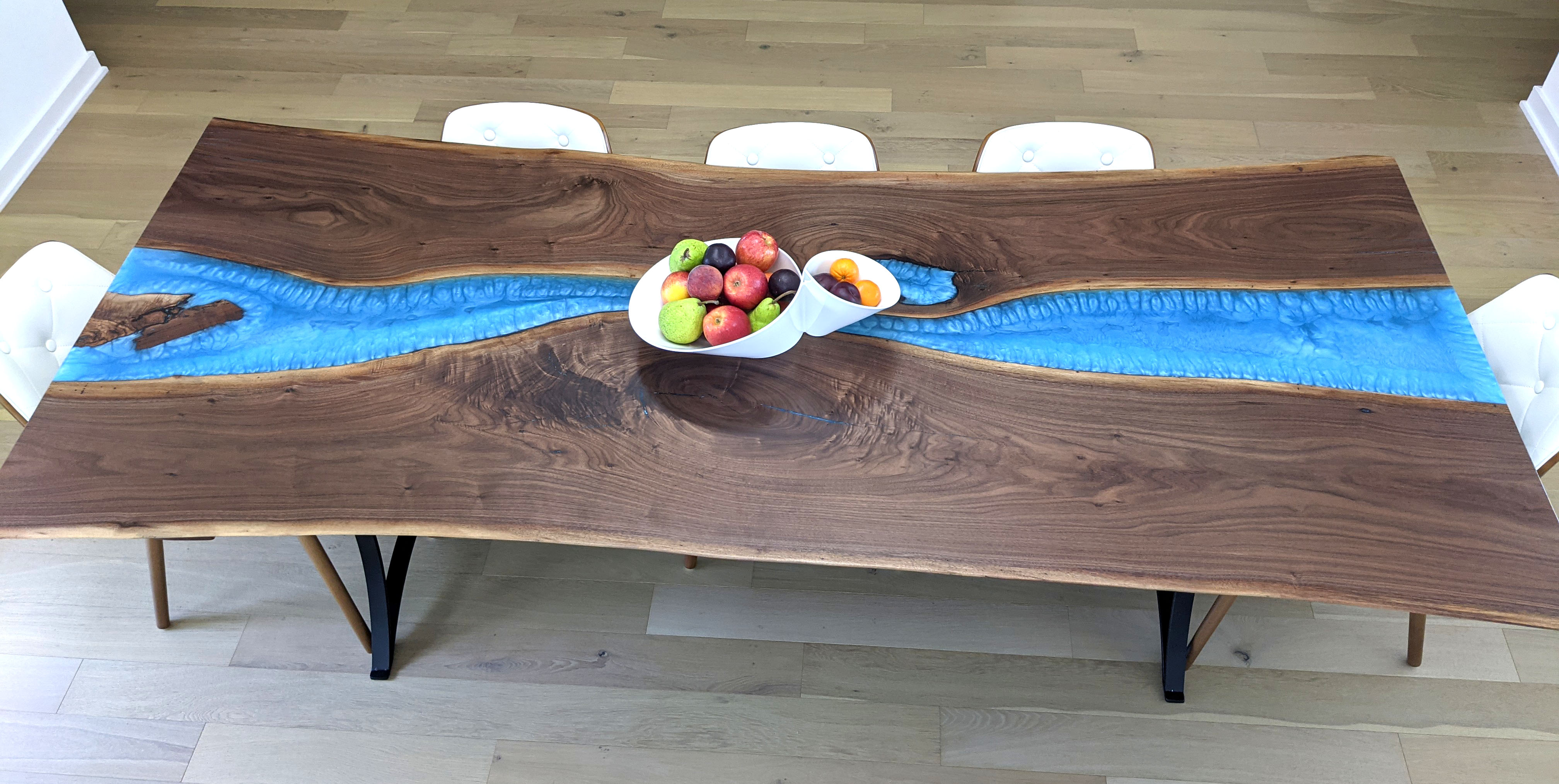 First of all, a river table is made by cutting a live edge slab in half, flipping the wood so the outside corners are now on the inside, and separating the slabs enough so that it forms a valley into which you pour epoxy resin. The slabs are placed in a form fit wooden mold and the corners sealed so the liquid epoxy won't flow out of the box and onto your floor. But that's another blog.
This article covers the best types of wood to use for the tabletop slabs. Cured epoxy is very stable and is unlikely to crack – but only if the wood doesn't warp or crack and put undo pressure on the epoxy. So it's important that you choose the right wood. And that wood is generally hard, dense and stable.
How to Choose a Wood Slab for Your River Table
Watch this video as Sheldon Myeroff takes you to the wood slab barn at a local Amish sawmill where wood for Chagrin Valley Custom Furniture's epoxy resin river tables are stored.
When choosing a wood slab, you want to make sure that the epoxy color and the wood color are a good match or that they complement each other. A dark river with a light wood is awesome. A light river with a dark wood is even more awesome. You can't go wrong. Find a lumberyard near you that carries a wide selection of wood slabs. If you live in an area with few trees, you will have to look online for a lumberyard and have the slabs shipped to you. Wood slabs can be very expensive, depending on the species.
Our customers can pick out the exact slab they want when we take them into our wood warehouse or supplier's lumberyard via video technology. Customers get to choose from thousands of different sizes of live edge wood slabs, grains, and species, including cherry, walnut, oak, maple, sassafras, and hickory. These woods are ideal to use for a custom epoxy table, custom river dining table, live edge desk, custom made bed or bed frame, custom built epoxy resin and wood furniture, live edge wood and epoxy resin countertop, handcrafted table top, bar top or kitchen island.
But clearly, we have our favorites, as do our customers. Our choices are based on beauty, stability, and hardness. Beauty can involve factors such as color, variations in hue, sapwood, grains, texture, amount of distressing, and so on. Stability means the wood is not likely to warp, crack or rot over time, so that your table will last for generations. And a hard species of wood makes it less porous to epoxy seeping into the grains. I guess that eliminates the softwoods such as pine and birch and spruce, although if you want to give them a try, good luck.
Our Favorite Wood Species for River Tables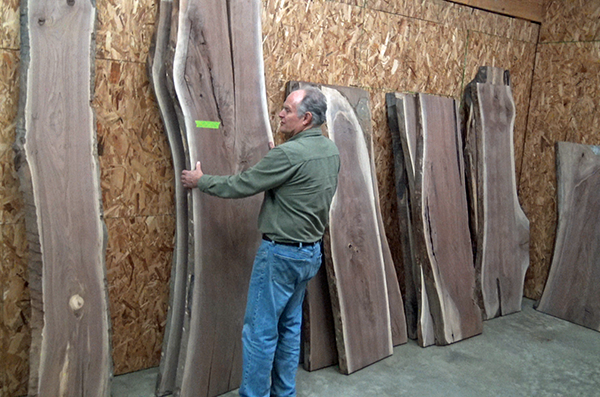 So these are the wood we like to use, and our customers prefer, in order of popularity:
Black Walnut
Walnut
Maple
Cherry
Oak
Hickory
Elm
Mahogany
Ash
Butternut
When No Wood Is Good
Watch wood air and kiln dried for river tables
Now, let me make one very important point here. NO WOOD IS GOOD IF THE MOISTURE HAS NOT BEEN REMOVED IN ADVANCE!!! That means the wood should spend up to a year and a half being both air-dried and kiln-dried until the moisture content is at or below 8%. Only then should you start working on it. Otherwise the wood may bow, warp, or crack while you are working on it or when it is in your home.
How Thick Should a River Table Be?
Watch timber cut into wood slabs to make live edge river tables
If the wood slab (especially black walnut) is at least 1.6″ thick, that should be good enough make a stable epoxy table. However, a 2″ thick wood slab is best for making epoxy resin and wood tables, desks and countertops. The wood slabs need to be absolutely flat. Flattening the slab and sanding it multiple times will take about 1/8" or so off the width, so take that into account when choosing your slab.
In this video, you will see how wood slabs are planed and flattened to a predetermined thickness at the sawmill.
You can build an epoxy resin river table as thin as 3/4" for a coffee table, but CVCF designers recommend at least 1-1/2″ for dining tables, with 1- 3/4″ being ideal for tables that seat 10 to 12 people.
CVCF frequently uses wood slabs that are 2″ thick to custom build sturdy farmhouse tables for customers that order locally and online in the U.S. After sanding, these 2″ thick slabs end up being about 1-3/4″ thick.
CVCF can also use 2 1/4″ thick slabs, 2 1/2″ thick slabs and 2 3/4″ thick slabs to make ultra-sturdy custom conference tables and restaurant tables that endure frequent movement and substantial wear and tear.
Harvesting Our Lumber in a Responsible Manner
Watch this video as Sheldon Myeroff takes you on a walk in the woods to see how we harvest lumber sustainably
CVCF only makes custom epoxy resin furniture out of solid wood slabs—generally with the live edge bark removed. CVCF woodworkers know how to choose the best boards for epoxy resin river tables. We use live edge wood slabs (with natural edges) that are made from sustainably harvested tree trunks.  Sustainable harvesting allows the population of trees to be maintained or to increase over time, while also preventing damage to the eco-system.
Chagrin Valley Custom Furniture sources its live edge slabs from Amish county in rural Ohio, as well as individual specialty wood kiln driers and suppliers nationwide. Each slab has been carefully treated to bring moisture content down to around 8% – a level high enough to keep the piece from cracking, but low enough to prevent warping during exposure to the elements or moisture.
Once You Bring the Wood Slabs Back to Your Workshop
After you've chosen your slab and brought it back to your woodworking shop, you must prep the wood properly before pouring the epoxy. Remove the bark before sanding the wood, filling in the bumps and cracks and sealing the wood. CVCF craftspeople build molds to secure the wood slabs before pouring the epoxy resin to produce a crystal water effect.
After CVCF resin artists let the epoxy dry (which takes days), they sand the wood again and apply finishes and top coats before attaching the legs.
Other Wood Species Used in Furniture-Making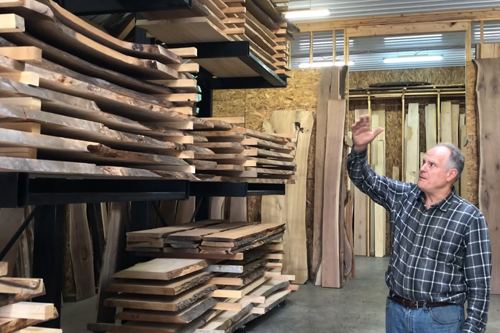 Our list of the Top 10 woods we use for river tables obviously left out a lot of species that are fine for general furniture-making. So here's a longer list to consider when making a table or desk or cabinet.
Hickory
Mahogany
Maple Bigleaf
Live Oak
Monkey Pine
Norfolk Pine
Sycamore
Maple (Hard or Soft)
Mappa Burl
Oak (Red or White)
Pine
Poplar
Redwood Old Growth
Sassafras
Brazilian Cherry
Natural Wood Slab
Elm
Barn Wood
Hickory
Reclaimed Wood
Live Edge
Figured Maple
Brown Maple
Hard Maple
Logs
White Or Red Oak
Solid Wood
American Hardwoods
Sequoia
Alder
Birch
Monterey Cypress
Fir
Blackwood Acacia
Teak
Rosewood
Pine
Redwood
Bigleaf Maple
Monkey Puzzle
Hollywood Juniper
Monterey Pine
Cuban Mahogany
Tamarind
Acacia
African Mahogany
Cedar
Avocado
Locust
Woman's Tongue Albizia
Silk Oak
Tropical Almond
Mango
About Our Company
Watch a video about the products and the people at CVCF
Locally-sourced wood slabs go into the furniture designed by our customers and handcrafted by the artisans in our Cleveland, Ohio, workshop. These beautiful one-of-a-kind pieces are then shipped to homeowners, restaurants, offices, businesses, and hotels throughout the continental United States.
Our furnishings include custom epoxy resin river tables, epoxy resin river beds and headboards, epoxy resin desks, epoxy resin wall art, rustic to modern farmhouse tables, barn doors, benches, countertops, shelves and so much more.
"From Forest to Furnishings" is a series of videos by CVCF. Each one shows you a different phase of the custom furniture making process. We start with the business of harvesting timber sustainably in the rich, diverse forests of Northeast Ohio. We take you through all the stages the wood goes through at the sawmill to make the beautiful, smooth live edge slabs that go into our river tables. Then we follow the wood as it is shaped into the finished epoxy resin table and shipped out to our customers.
If you are interested in learning more about the epoxy and wood furnishings made by Chagrin Valley Custom Furniture, or would like to order a custom table, desk, or other epoxy furniture, call 440-591-5511 or email customerservice@chagrinvalleycustomfurniture.com. Check out all the handcrafted products on our website by going to: www.chagrinvalleycustomfurniture.com.