Buy A Custom Conference Table Locally Or Online $4,500+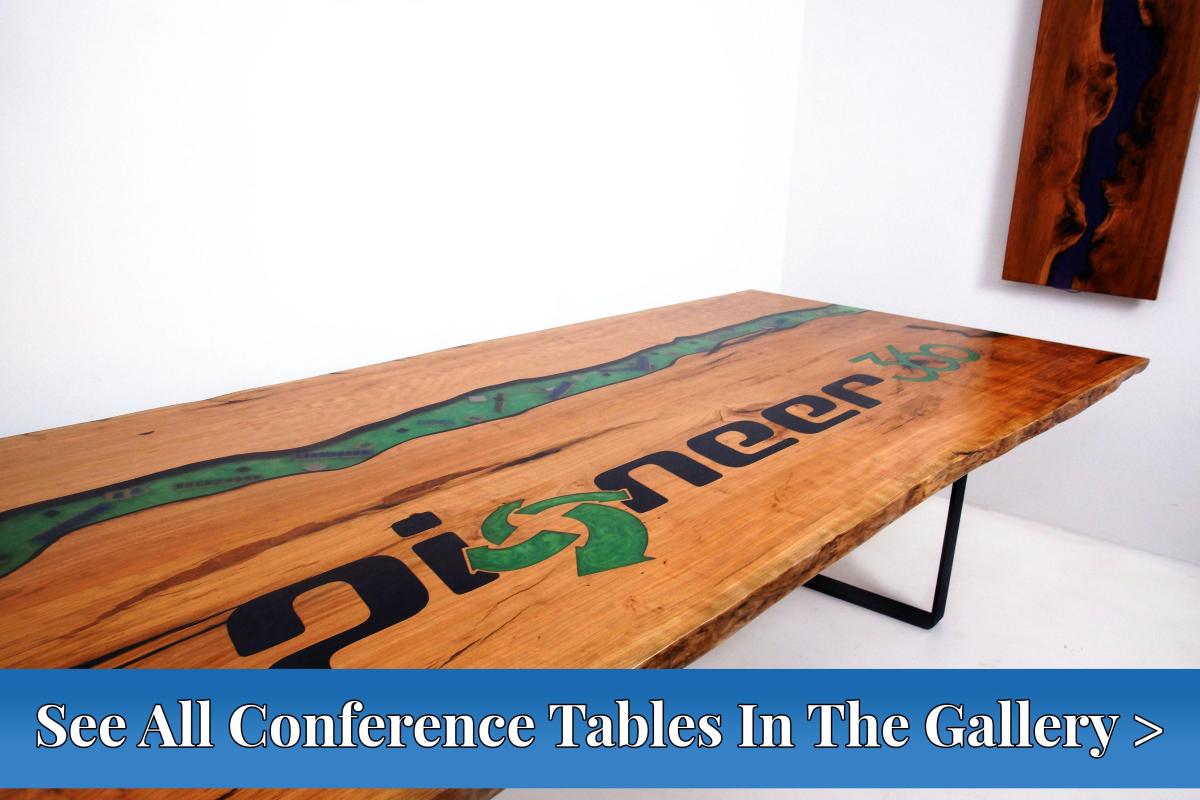 You can order a custom built wood conference table online or locally (US only) at a Chagrin Valley Custom Furniture shop. Prices start at $4,500.
You can order a custom built conference table with a CNC carved and epoxy filled logo and an epoxy resin river. Company or personal branding elements can be embedded in epoxy. Custom conference tables can feature inlaid features.
CVCF sells, designs and builds unique made-to-order modern conference tables, live edge conference tables and rustic boardroom tables for clients throughout the US. When you commission a custom conference table from CVCF, you choose the shape, size, wood, materials, epoxy resin colors and design features.
You can buy a custom conference table in any length, size or shape online or locally from Chagrin Valley Custom Furniture. In 2022, extra large custom conference tables for 'social distancing' are now the latest trend. Executive boardroom tables are custom built locally in the United States by CVCF conference table builders.
Extra long custom made conference tables are custom built to the size and shape specified by our customers. These unique wood, epoxy and steel conference tables are shipped and delivered to corporations and businesses in all 50 states.
For those who consider their business one-of-kind and heads-and-tails above the competition, maybe it's time to consider a custom made conference table that's just as unique and peerless. Use your imagination and come up with a boardroom table design idea that will impress your clients and make your employees proud. The designers and craftspeople here at Chagrin Valley will turn your design into something that's truly awesome!
Get more information about buying a custom conference table locally or online, here. Watch a video on YouTube to learn the secrets to making America's finest epoxy resin river and natural wood conference tables from Chagrin Valley Custom Furniture, here.
Consider a made to order live edge wood slab meeting room table, of any size, material, color, wood or shape, with a shimmering epoxy river running down the length. Or an executive boardroom table with your company name and logo carved into the tabletop and filled with epoxy resin in your company colors. Or a community room table with a meaningful waterway feature carved and filled with epoxy. You can also choose your company products to be embedded into epoxy resin. LED lights, cable management systems, power outlets, cabinets, drawers, wheels, lamps, benches and data ports can be integrated into the tables.
View more photos and videos of custom built live edge and CNC carved epoxy logo conference tables sold locally (U.S.) and for sale online in 2022 in a variety of sizes and shapes, here.
To learn more or to get a quote on your epoxy conference room table, simply fill out and send us the form to the right. You can also call us at 440-591-5511 to speak with a furniture designer, or email customerservice@chagrinvalleycustomfurniture.com.
Excellence in every custom conference table
Each custom epoxy and wood conference room table is handcrafted with attention to every detail, using only the highest quality materials and components. Every slab is kiln dried to less than 8% moisture content, which prevents warping over time. For our resin, we use the most reputable American brands - including Ecopoxy and Totalboat's products. And, for our finishes, we use the most durable catalyzed lacquer from Mohawk Finishing Products. You know that your conference table is built for beauty and built to last – generation after generation. Visit our materials page for more information.
Custom Conference Table Builders And Makers At CVCF
Learn about the talented custom conference table makers and creative conference room table designers at CVCF, here. Eight of the top custom conference table builders at CVCF are Sheldon Myeroff, Zach Schulte, Eric Goodfellow, Sky Ironhorse, Eldon Watts, Brandon Watts, Rich Fedor and Hank Schulte.
To see more about pricing our products, visit our prices page. You can submit your furniture design, or request a build based on one of our customer's past designs – some of which can be found below, or you can explore our gallery.