Ocean Tables are Making Waves in the 2022 Custom Furnishings World
If you can't go to the ocean, let the ocean come to you – in the form of an ocean table. You can buy a custom built ocean table, an epoxy resin art table or an epoxy resin water and beach scene table From Chagrin Valley Custom Furniture locally near you (U.S. only) or online.
Epoxy resin and wood ocean tables, with their serene, tranquil qualities, are exploding onto the home décor scene thanks to recent advances in epoxy resin materials, methods and techniques. Chagrin Valley Custom Furniture is one company that has turned the creation of ocean tables into an art.
What Is an Ocean Table?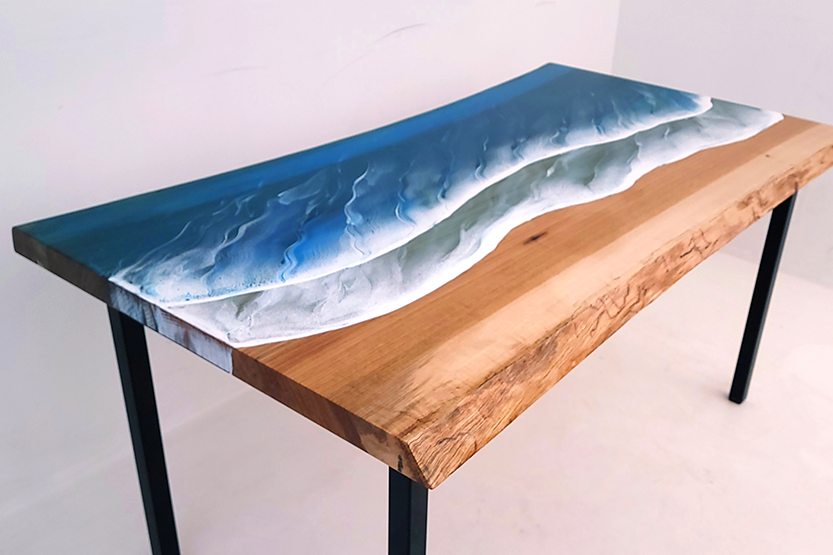 Blue epoxy resin and solid wood ocean tables are beach-themed furniture that look like seashores with moving tides. Resin is a strong, glass-like coating that is used as a topcoat to make ocean tables. It possesses a crystal-clear finish, it is self-levelling, it dries smooth and it makes colors appear vibrant. The epoxy resins that Chagrin Valley Custom Furniture uses in ocean tables mimic moving ocean waves and capture the beauty of the white surf that waves produce when they crash into the shoreline. The natural wood tabletops imitate the sand on the beach.
While many of our ocean table clients live close to a beach in California, Florida, New Jersey, or have second homes on a lake, you don't have to live by the ocean to have an ocean table in your home or office. You just have to love the ocean, the sand, the warmth and the other serene qualities that shorelines exude.
Made-to-Order Ocean Tables
Watch this video on how ocean tables are made.
When it comes to merging furniture and home décor materials, Chagrin Valley resin artists pair wood and the highest quality synthetic resins to create elegant, eye-catching and captivating works of functional art. Chagrin Valley ocean table builders spend many hours working on each ocean table we build to make sure that the tabletops are extremely flat, the waves are breathtaking, the epoxy resin colors are vivid and the steel legs are sturdy.
Visually stunning ocean tables are made from crystal clear epoxy resins and natural hardwood slabs like walnut, black walnut, cherry, oak, maple, hickory, and elm. Chagrin Valley woodworkers and epoxy resin specialists transform typical woodworking raw materials into works of resin art.
These 'Ocean Tables' are one of the most trendy pieces of furniture on the market in 2022. Even though "Ocean Tables" have been popular with specialized American resin artists and furniture makers for a few years, the general public is now starting to admire and enjoy the calm and peace of epoxy resin and wood furnishings.
After resin furniture started trending in 2019, Chagrin Valley started a research and development project to perfect the art of making epoxy resin ocean wave tables.
Shel Sells Seashells for the Sea Shore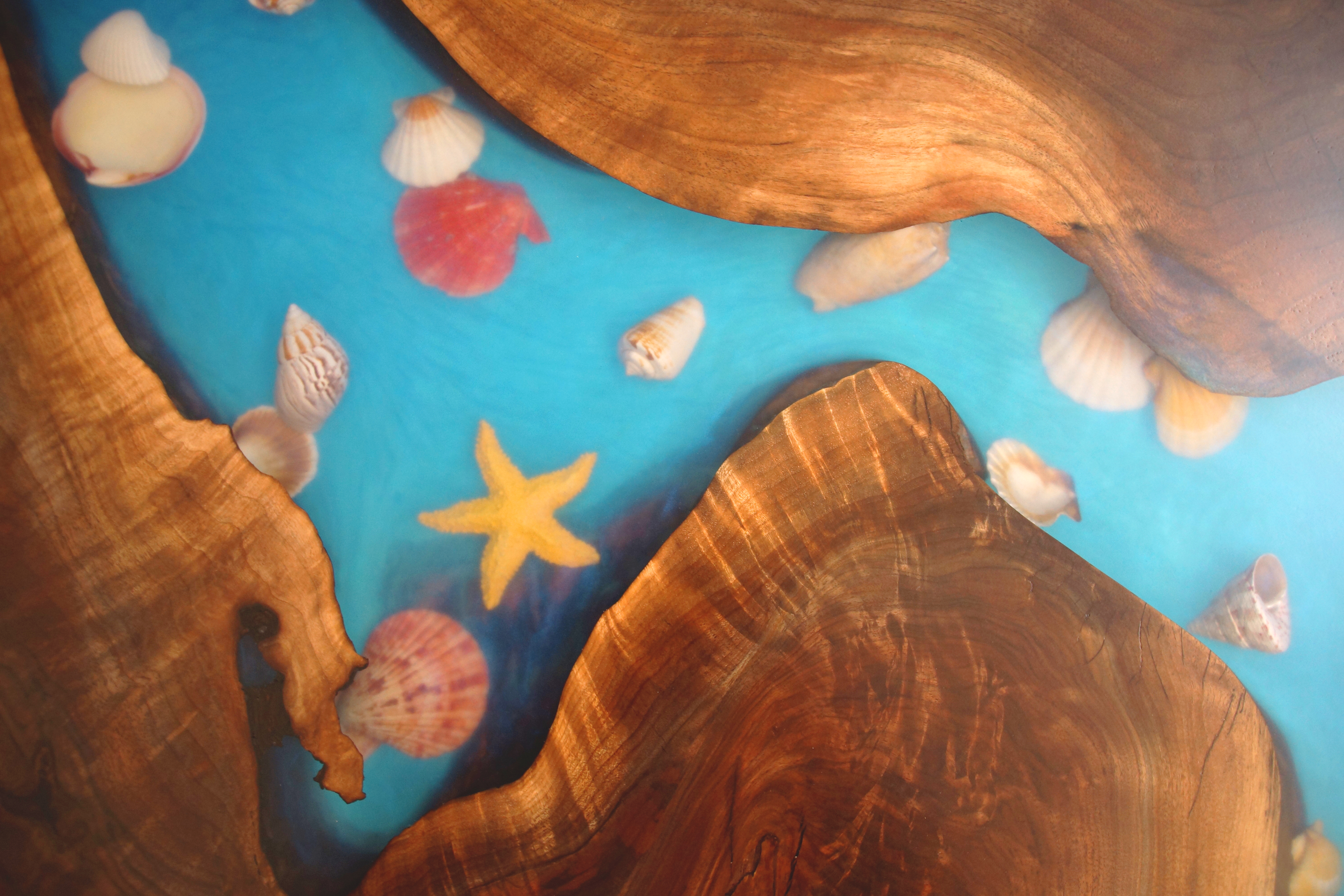 Customers will often ask President Shel Myeroff to have his woodworkers embed a few seaside touches into the epoxy resin and wood furniture we build such as sea shells and sand dollars. Even though we are stationed in Cleveland, Ohio, we have a slew of great resources for ocean-themed items. Other popular items include pebbles, rocks, fish, turtles, and even real sand. We have yet to embed a shark in the epoxy but should someone ask…
Your Favorite Body of Water Replicated in an Ocean Table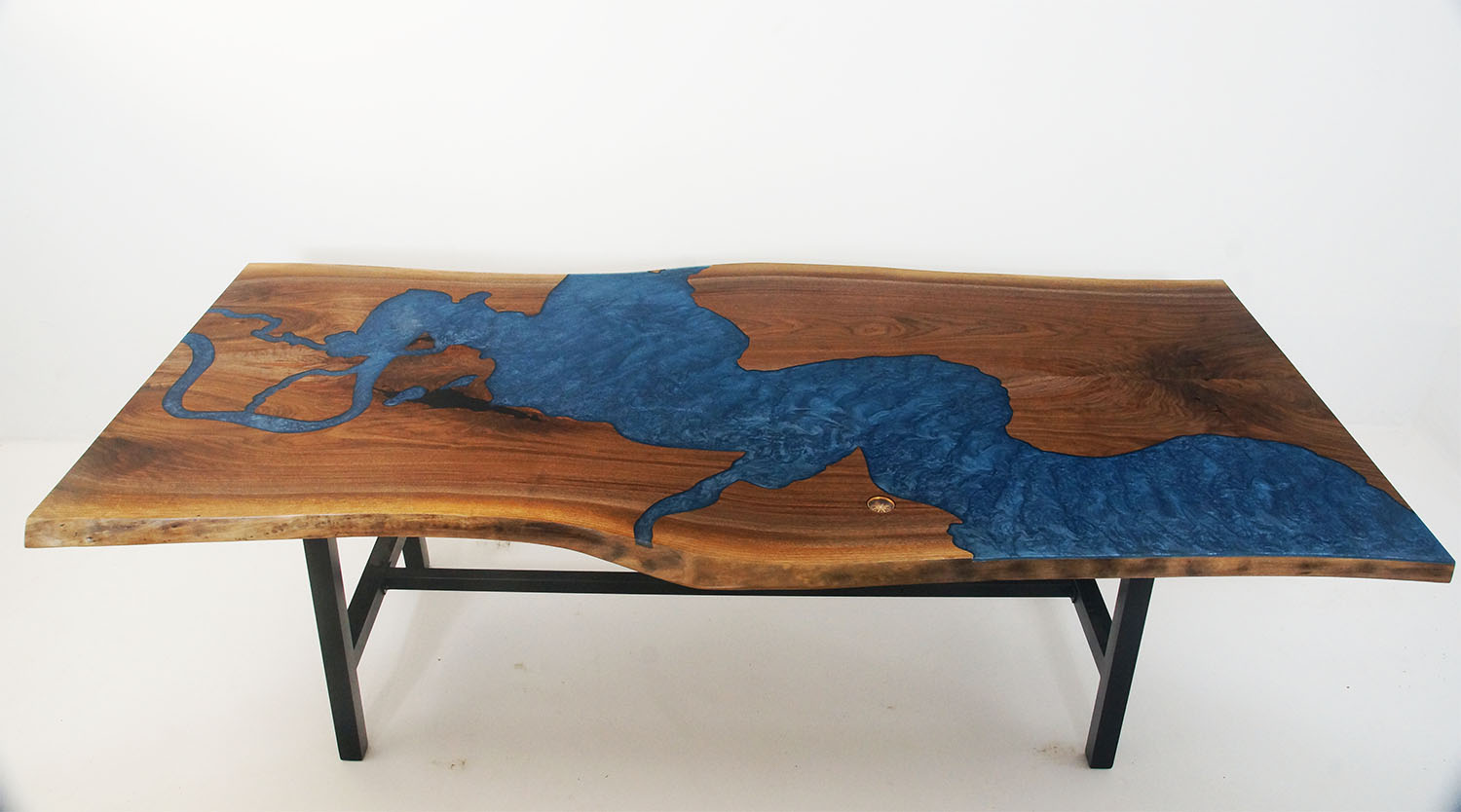 Some customers want the shape of an actual shoreline carved into the tabletop design. We have created tables that replicate the mouth of the Mississippi River, the East Coast of Florida, the Chesapeake Bay, and other areas of the Coastal United States. We also make tables with other water features CNC engraved into the wood and filled with epoxy – Walloon Lake in Michigan, Rocky Mountain Lakes in Colorado, Lake Sunapee in New Hampshire, and Lake Tahoe in California to name just a few.
Creating Underwater Contours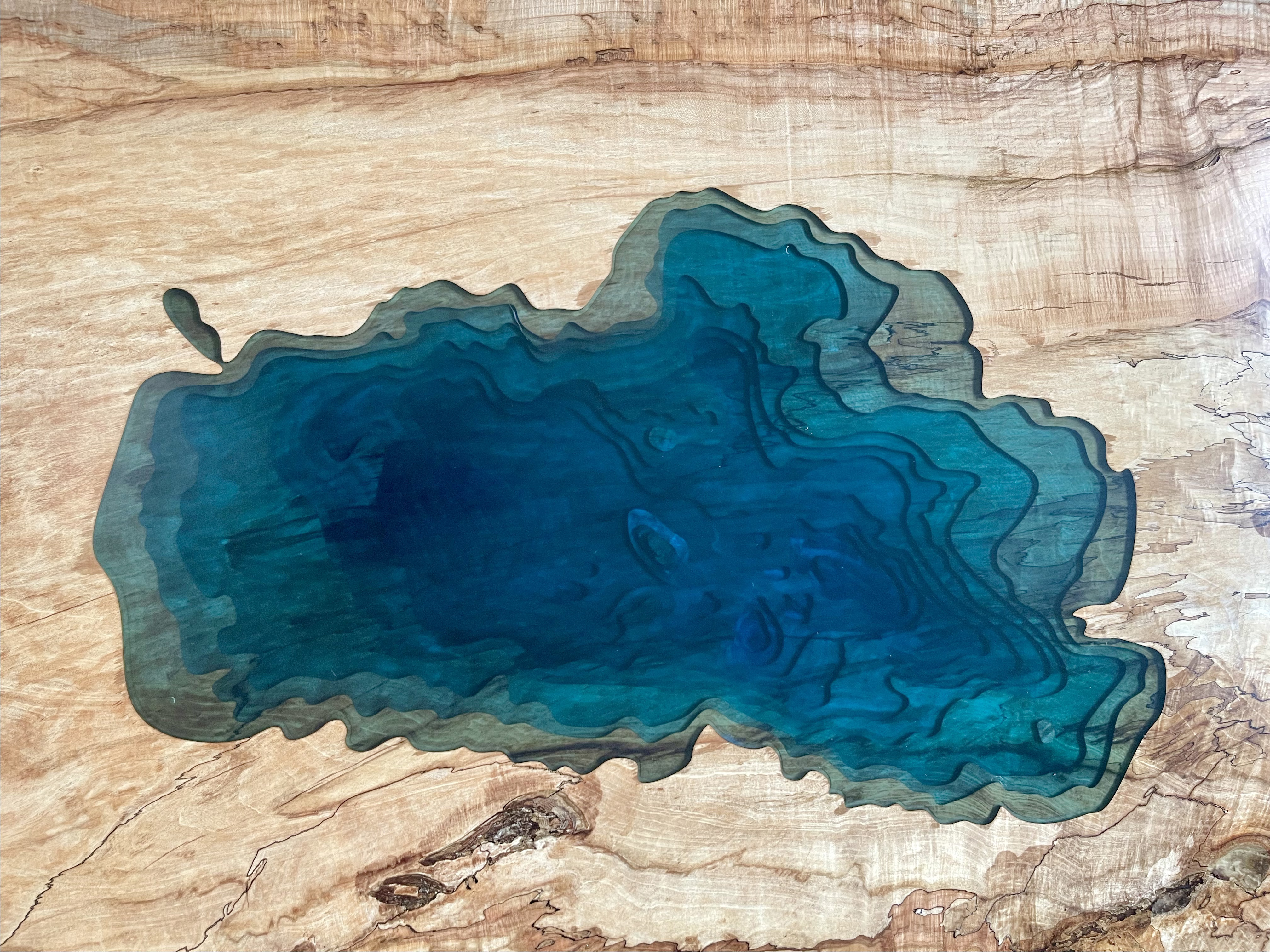 A few customers have ordered topographic water-themed furniture. In these stunning tables, the actual topography of the floor of the water feature is mapped out and carved out with precision computerized routers.
Computerized Cuts
Watch how a map of a water feature becomes a tabletop
To start a water feature table, the customer shows us an area of a map they want replicated on the table. Our furniture artist creates a 3-D model of the area and imports the map into a CNC router (a computer-generated program for a precision carving tool). The operator then covers the tabletop with special tape that the router "sees" and creates a path that the operator follows with a handheld router called a Shaper. In certain instances we will use a fully automated, heavy duty commercial router to carve out contours.
Pouring the Epoxy to Make an Ocean Epoxy Table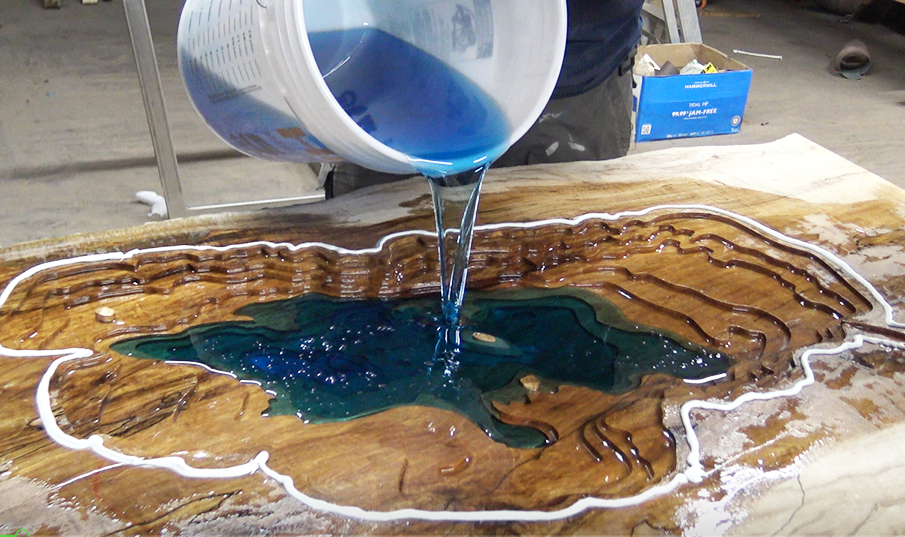 Once the area is carved out, epoxy resin is poured into the hollowed-out wood layer by layer until you have what appears to be a body of water. It is actually the solid, rock-hard translucent epoxy with a high gloss sheen that gives the appearance of liquid. Chagrin Valley uses the best scratch resistant epoxy resins for coating ocean tables. Chagrin Valley resin artists use thin pours of 1/8 to 1/4″ per application when we make ocean tables.
Adding Surf, Waves, and Foam to the Epoxy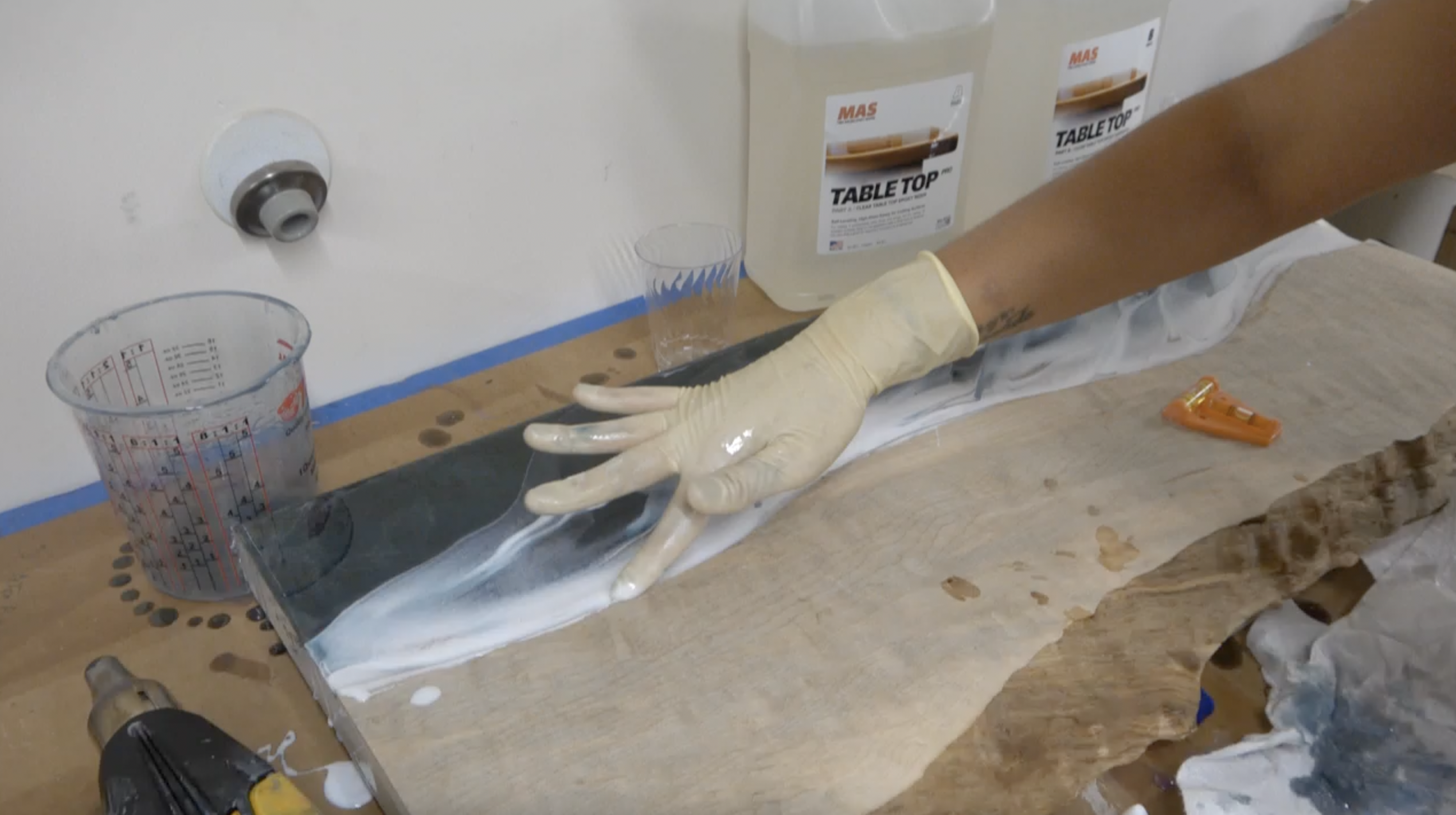 But the creation of an ocean table doesn't end there. To add waves, our woodworkers hand paint and manipulate white foam between and on top of the multiple layers of epoxy resin to create extremely realistic waves, shadowing and depth. Chagrin Valley uses the best scratch resistant epoxy resins for coating ocean tables. We normally use multiple layers of slow curing epoxy resin coatings to make epoxy river tables and ocean resin tables. Faux Rizzle Art Resin is a premium resin used for making ocean tables. It is scratch resistant, food safe, UV resistant and heat resistant.
Smooth Surfaces Make for Smooth Sailing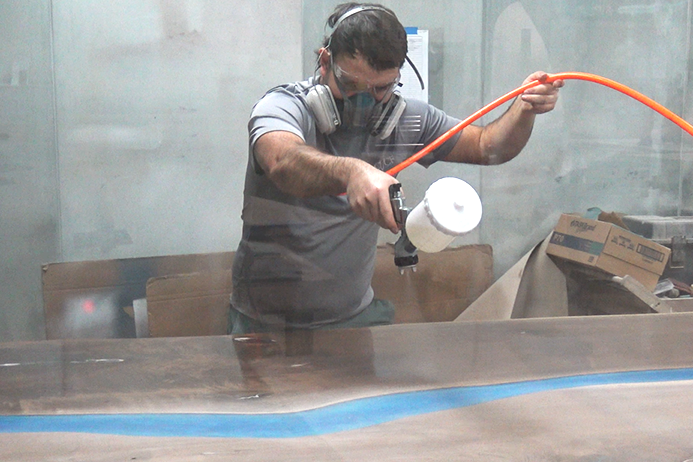 Now the tabletop surface goes through several rounds of sanding and spraying catalyzed varnish on the surface in order to make it perfectly smooth, level, and rock hard. We have constructed a large, clean spray room with all the equipment, materials, and operator expertise you need to ensure that your table is dust-free, smooth, and exhibits an incredibly beautiful sheen!
Going the Extra Nautical Mile to Make a Sturdier Table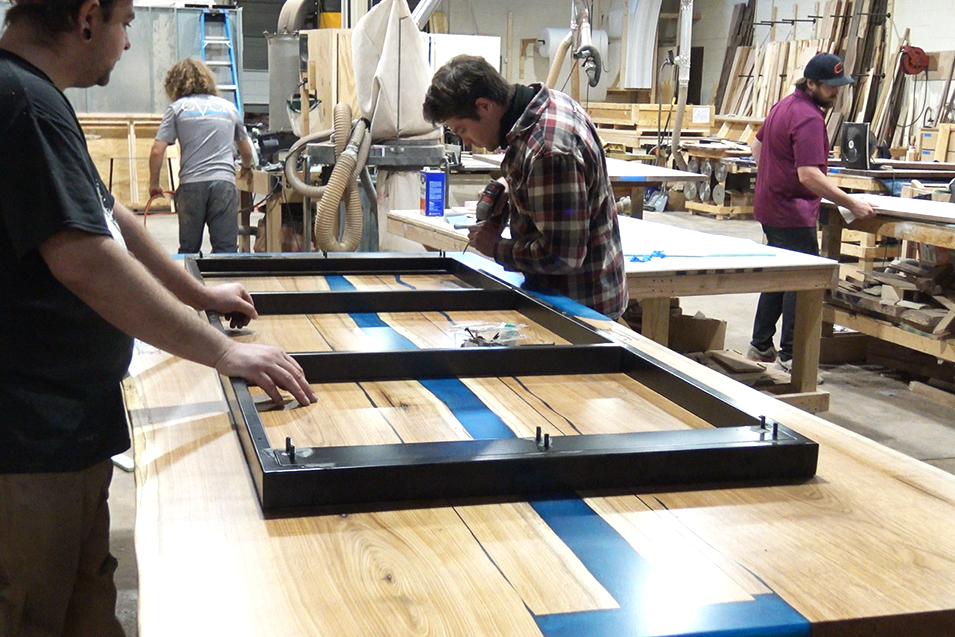 In the case of larger ocean tables, we add a solid metal frame to the underside of the wood to ensure the wood will remain level and warp-free for generations to come. It also firmly secures the bases to prevent any shake or wobble.
Unique Table Legs and Bases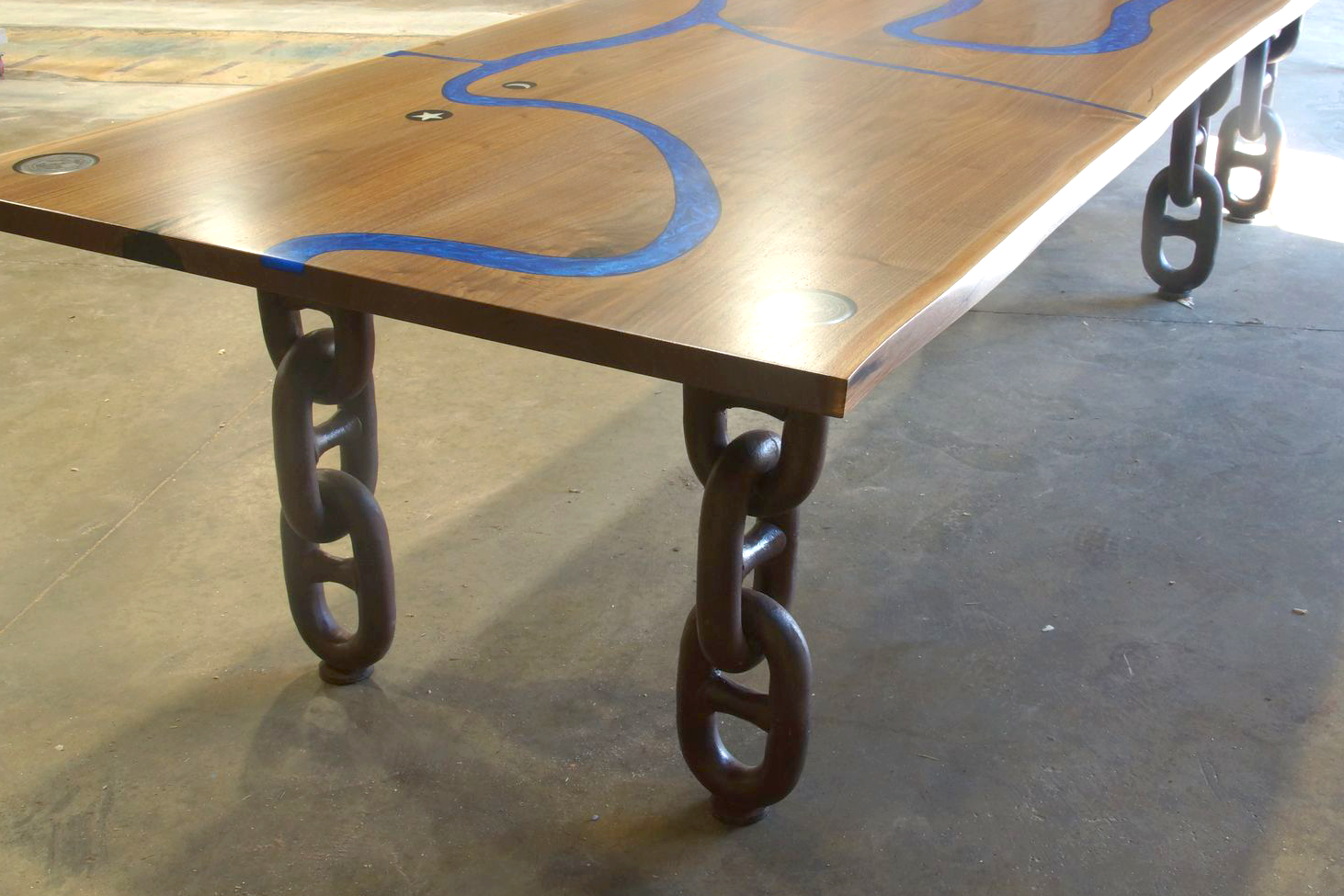 Finally, we attach the legs or bases the customer has chosen from a large selection designed by our expert metal fabricators. The most popular legs for ocean tables are black powder coated steel legs.
Or, you can show us your idea for an original leg design. For instance, for a Mississippi River Delta table commissioned by the Port Pilots Association in New Orleans, they asked us to use actual seafaring anchor chains as legs! No easy task, but we made it work and it resulted in a truly stunning 19' conference table.
About Ocean Tables
The tables we build with moving ocean waves possess both a sophisticated and relaxed look. The unique, water-like clarity of the epoxy resins used by Chagrin Valley resin artists help balance the earthiness of the natural wood slabs we use to build ocean tables and resin art tables.
Ocean tables sold by Chagrin Valley are must-have statement pieces of furniture for people that are inspired by living on the beach or are naturally inspired by the ocean. For more inspiration, view stunning pictures of the "Epoxy Resin 'Coral Reef' Coffee Table" that Chagrin Valley ocean table builders handcrafted with blue epoxy resins and maple wood for a customer in Pennsylvania in 2020, here.
Chagrin Valley specializes in building ocean resin countertops and ocean resin bar tops, as well as epoxy resin ocean conference tables. Chagrin Valley sells ocean wave resin tables, resin wave tables, beach scene epoxy tables, moving ocean tables, epoxy resin ocean art, ocean epoxy tables, live edge ocean shore coffee tables, ocean resin coffee tables, ocean surf coffee tables, wood and resin ocean coast tables, resin beach tables and custom epoxy resin "Ocean Tables" that capture ocean waves crashing on a beach. Chagrin Valley handcrafts epoxy resin ocean tables that glow in the dark that are sought-after by customers that are inspired by beaches. See pictures of an amazing custom handmade live edge epoxy resin ocean table that Chagrin Valley custom built in September of 2020 here.
We also sell beach themed resin and wood furniture with embedded sand dollars, stones, starfish, plastic sea creatures and seashells.
We are experts at designing incredible tropical epoxy ocean-inspired decor, epoxy resin ocean headboards and moving ocean coffee tables.
Because many of Chagrin Valley's customers in the U.S. have been inspired by our river tables, we are now taking orders for other water themed furniture such as 'Waterfall Tables', custom river tables and 'Canyon River Tables'.
Check out our selection of epoxy resin color options, wood species, legs and bases for ocean coffee tables, ocean end tables, ocean dining tables, and ocean conference tables, here. Chagrin Valley resin art table designers were inspired by the popularity of all the options used to custom build river tables and waterfall tables, so we decided to start selling ocean versions to homeowners and businesses in the United States. Our customers have great resin art ideas and the inspiration – and Chagrin Valley has the supplies and expertise.
Chagrin Valley resin artists rethink the way we look at tables. The individual creativity of our furniture makers cause them think about more than the usual function of furniture.
About Chagrin Valley Custom Furniture
Watch a video about our company, our people, our products, and our processes.
Chagrin Valley is a U.S.-based ocean resin table manufacturer that specializes in combining decorative layered resin art with live edge wood slabs, reclaimed wood and walnut slabs. Chagrin Valley creates beautifully functional resin art and home décor with stunning aesthetics that also serve utilitarian purposes. Tables with glossy moving ocean waves are a perfect example of functional art. The experts at Chagrin Valley not only use epoxy resins to create custom wood furniture, ocean tables and ocean countertops – we also use it to create art. Ocean tables and other pieces of functional art furniture are enthusiastically acquired by our customers because they appreciate their beauty and aesthetic value.
Chagrin Valley ocean table makers such as Shel Myeroff, Zach Schulte and Sky Ironhorse have channeled their inner ocean inspirations into perfecting the art of recreating the beauty of oceans with their spectacular and mesmerizing ocean resin table designs.
These three ocean table makers have an uncanny ability to pair decorative layered epoxy resins with natural wood slabs (walnut is very popular) to create instant statement-makers.
If you are in the market for high quality custom furniture, you can trust Chagrin Valley to make it for you. Ocean tables are made to order by Chagrin Valley. They are all one-of-a-kind and every one has a different resin art oceanscape. Order an epoxy resin ocean table or piece of resin wall art from Chagrin Valley and we will make it just the way you want.
To talk to one of Chagrin Valley's ocean table designers, call 440-591-5511. You can also email customerservice@chagrinvalleycustomfurniture.com or go to our website, www.chagrinvalleycustomfurniture.com, and fill out a form to get a quote on an ocean table project.