Custom Built Home Office, Computer, L-Shaped, Gaming, And Executive Epoxy And Wood Desks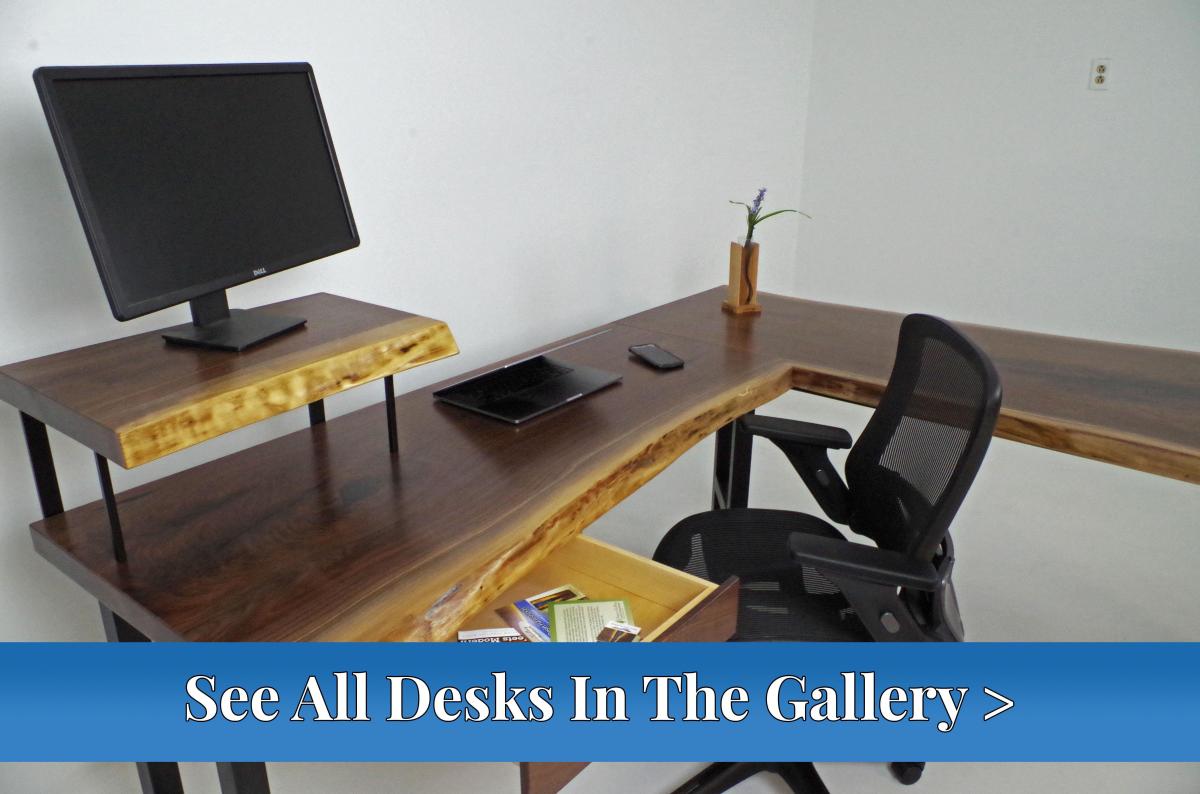 Chagrin Valley Custom Furniture specializes in building custom designed live edge epoxy resin and wood river desks and workstations, l-shaped desks, computer desks, home office desks, gaming desks, executive desks and ergonomic adjustable height desks. In these times with so many people working out of their homes, it is important to have a workspace that works for you while offering you comfort and peace of mind.
Learn about design options for custom desk and desk tops for sale near you or online in the United States, here. Submit your desk design idea here to receive a quote.You can begine the process of buying custom home office furniture or a desk online from CVCF by calling 440-591-5511.
Since you get to custom design your own furniture for CVCF to build, you are assured of getting a desk or workstation that fits your space, matches your décor, fulfills your vision, and elevates the character of your home office. These custom river desks and workstations are ideal for home offices, places of business, hotels, and for the staff at restaurants, bars, and commercial developments. See examples of custom handmade desks sold online by CVCF that incorporate natural live edge wood slabs and epoxy resin designs, here.
Speaking of comfort, the CVCF team of furniture makers are experts at building electric height adjustable desks and workstations, also known as sit-stand desks. These are ergonomically designed to keep you healthy, comfortable, and productive for the long hours you spend in your home office. Your happiness quotient will rise when you have something so strikingly beautiful to look at and feel all day. The electric control panel automatically raises and lowers the height of the desk smoothly and quickly. Retirees love this feature as it helps ease or prevent any back, neck, and shoulder issues. Learn about custom built ergonomic furniture, made-to-order adjustable height desks and electric sit-stand desks, sold by CVCF, here.
We'd love to see or hear about your design idea for your dream custom river desk or workstation! We'll design it based on your unique wants and needs. You select the epoxy color, the type of wood, the style, the size, the shape, the features and accessories – it's your desk and these are your decisions!
See more examples of custom desks, custom designed live edge desks and epoxy resin river desktops sold online, here. Watch a video on YouTube to learn the secrets to making America's finest epoxy resin desks and desk tops from Chagrin Valley Custom Furniture, here. If you want a completely unique workspace for your home or office, consider buying custom built office furniture or a desk handmade in the United States by CVCF.
Excellence in every custom product
Each river table is made with care, using only the most high quality components. Every slab is kiln dried to less 8% moisture content, which prevents warping over time. We use reputable brands for our resin - including Ecopoxy and Totalboat's products. And, for our finishes, we use the most durable catalyzed lacquer Mohawk Finishing Products has available. Visit our materials page for more information.
To see more about pricing our products, visit our prices page. Check out pictures of custom designed live edge desks, handmade executive desks, handcrafted L-shaped epoxy resin and wood desks and completely customized corner desks that CVCF has built over the years, here.
You can submit your furniture design, or request a build based on one of our customer's past designs – some of which can be found below, or you can explore our gallery.