Biomorphic Epoxy Resin and Wood Furnishings use the natural forms of the wood, its distressed features, and colored epoxy to create stunning statement pieces for any room in the home. Biomorphism is a furniture design movement in which a piece's form echoes the forms and patterns found in nature. As for Chagrin Valley Custom Furniture's biomorphic epoxy and wood furniture, the form actually IS nature. The shapes and forms and natural imperfections in the wood are kept intact and inform the look of the finished table or desk.
Also called organic, natural shape, natural form, or just natural furniture, biomorphic tables and desks have become a popular offering at Chagrin Valley, a custom furniture maker headquartered just outside Cleveland, Ohio. Specializing in made-to-order epoxy resin river tables, we've pioneered new processes and designs in our quest to provide the highest quality and design-forward tables and desks.
"Essentially, biomorphic furniture brings nature indoors," says CVCF designer Sky Ironhorse, a Cleveland Institute of Art graduate in Industrial Design. "Trend wise, we are hitting back into an overlap interest of organic form language, nostalgia, and minimal shapes with maximalist patterning – which brings biomorphic design to the forefront."
Interior designers, decorators, and architects have discovered that this style of furniture can meet the lofty demands of their high end clientele seeking a luxury item for their home. What makes these custom pieces even more appealing is that they are designed and built to fit the space, complement the decor, elevate the character of the room, and fulfill the client's vision.
For the biomorphic tables built at Chagrin Valley, the basic element of the tabletop is a naturally distressed slab or slabs of wood that retain their original state, warts and all. This includes gouges, cracks, discolorations, insect trails, bird peckings, rot, knots, burls, and so forth. In nature, these are caused by forces of nature such as lightning strikes, high winds, ice and snow, insect infestation, fungi, and birds. Most often, furniture makers will throw out these slabs or process them into homogenous, vanilla slabs.
However, CVCF saw the beauty in these naturally distressed slabs and started using them in our live edge epoxy tables. First, imperfections are cleaned out and the surface of the slab is flattened and sanded. Otherwise, the imperfections are left intact. They are then filled with colored or clear epoxy resin to create a living piece of art. The misshapen slabs are placed like puzzle pieces in a large mold in preparation for the epoxy pour.
Types of Biomorphic Epoxy and Wood Furniture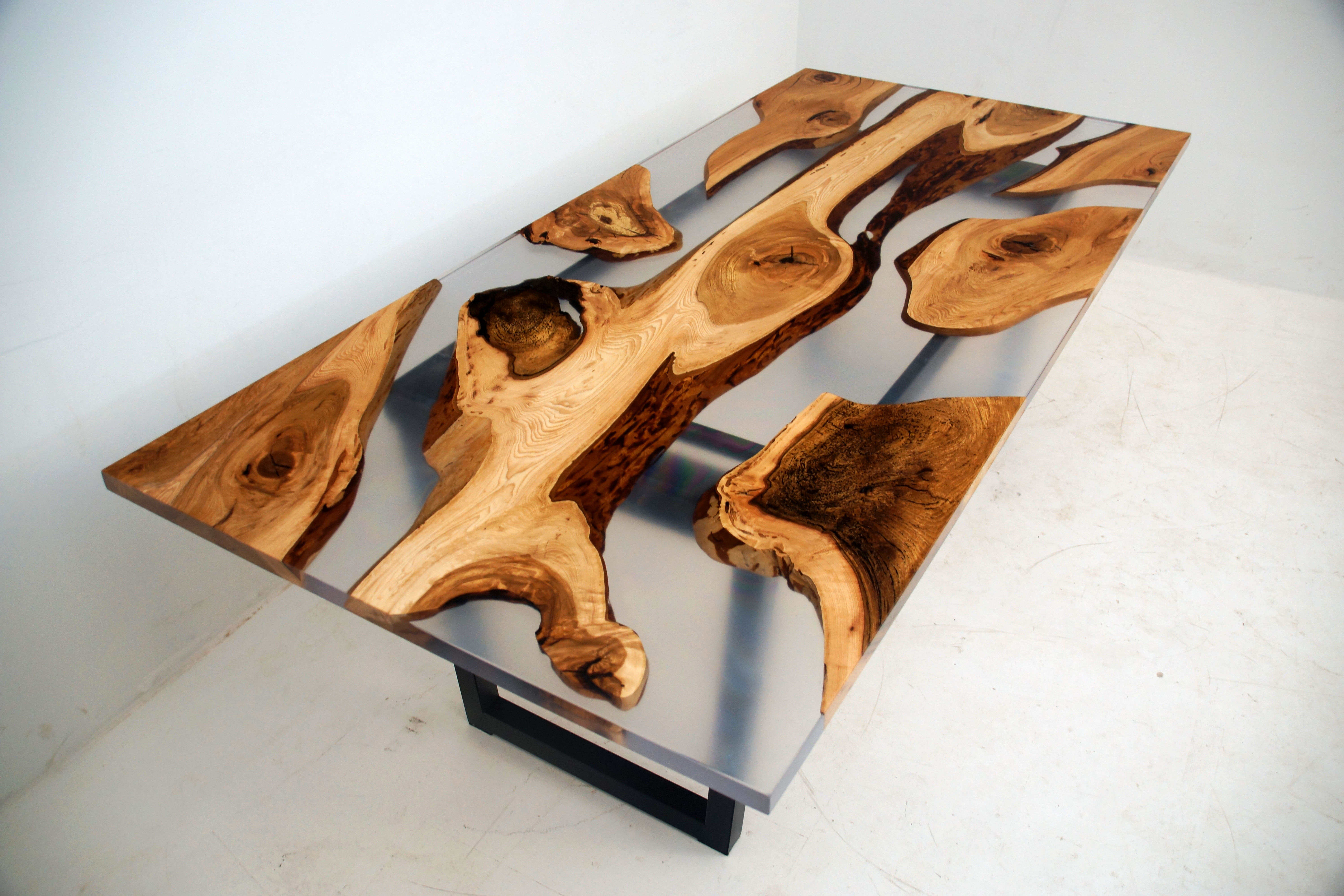 Chagrin Valley makes artistic biomorphic furniture for any purpose and any room in your home, office, restaurant, or hotel. Our most common types for the home are dining tables, coffee tables, kitchen tables, kitchen islands, kitchen countertops, bar tops, sofa tables, entryway tables, hallway tables, headboards and bedroom sets, and desks and workstations.  For offices and restaurants we make conference room tables, reception desks, dining tables, sliding barn doors, and desks and workstations out of naturally distressed wood. This type of wood looks stunning on front panels of reception desks and on your wall as biomorphic wall art.
Choosing Wood Slabs for Your Biomorphic Epoxy Tables
It starts with the perfect imperfect slab of wood. The rich diversity of tree species found in Northeast Ohio offers numerous wood varieties that are ideal for biomorphic epoxy tables. These include walnut, beech, black gum, oak, maple, hickory, elm, and cherry to name just a few. The live edge slabs from these trees are cut at local Amish sawmills and sent to distributors around Cleveland. Slabs that used to be discarded because of the organic anomalies are now prized as the source for the tabletops. CVCF has special vendors that notify us when a new batch of the organic slabs arrive. We select the best slabs and take them back to our shop to show prospective customers.
NOTE: Distressed slabs used to come pretty cheap. With the biomorphic movement and greater demand for these slabs, the price has risen extensively. The price of wood in general has skyrocketed over the past few years.
The Art of Biomorphic Epoxy and Wood Furniture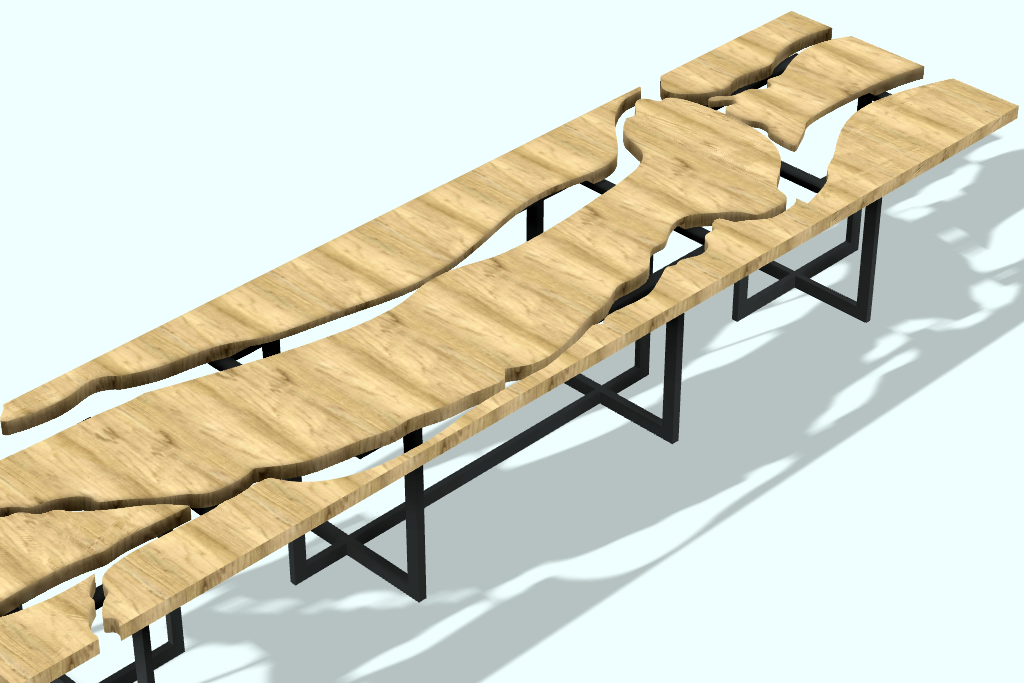 A slab alone does not make a great piece of furniture. The designers and woodworkers at CVCF, under the direction of Zach Schulte, bring a keen sense of space, color, shape, and line to their projects. It is this artistic approach to our work that distinguishes pieces you find at CVCF. We pride ourselves in producing furniture that is both functional and artistic.
Biomorphism is the base for many modern and contemporary movements. Biomorphic furniture design is not new. The term was coined in 1933 by Geoffrey Grigson and has cubist and surrealistic influences. Some early proponents of the style include one of the 20th century's most important artists and designers American  Isamu Noguchi, Finnish architect and designer Alvar Aalto, Austian-born designer and educator Victor Papanek, and Australian furniture designer Marc Newson,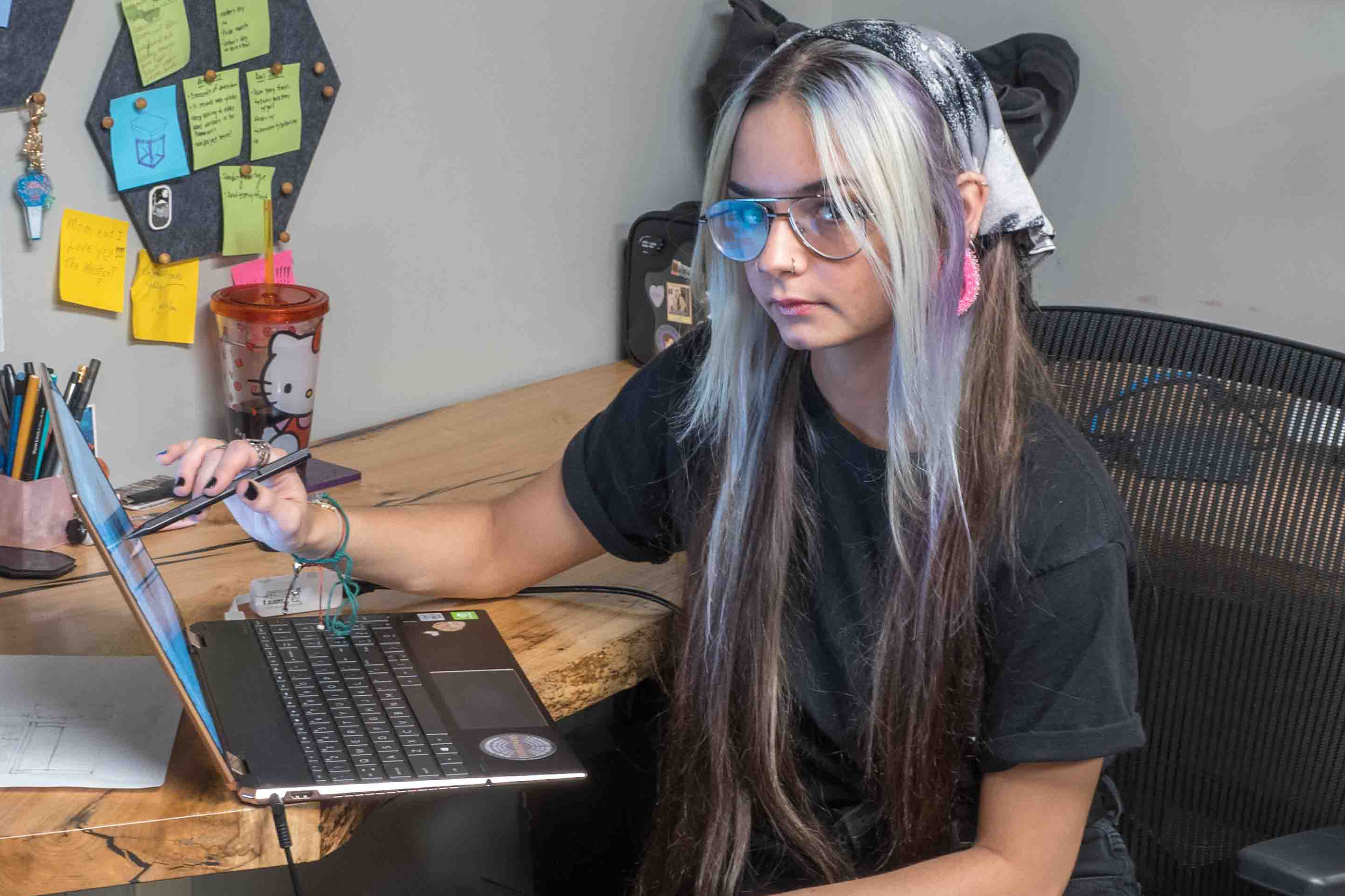 CVCF's Sky Ironhorse, a graduate of the prestigious Cleveland Institute of Art in Industrial Design, studied the works of these great designers, which align with her minimalistic, modernistic and organic approach to furniture design.
Selecting the Epoxy Resin Color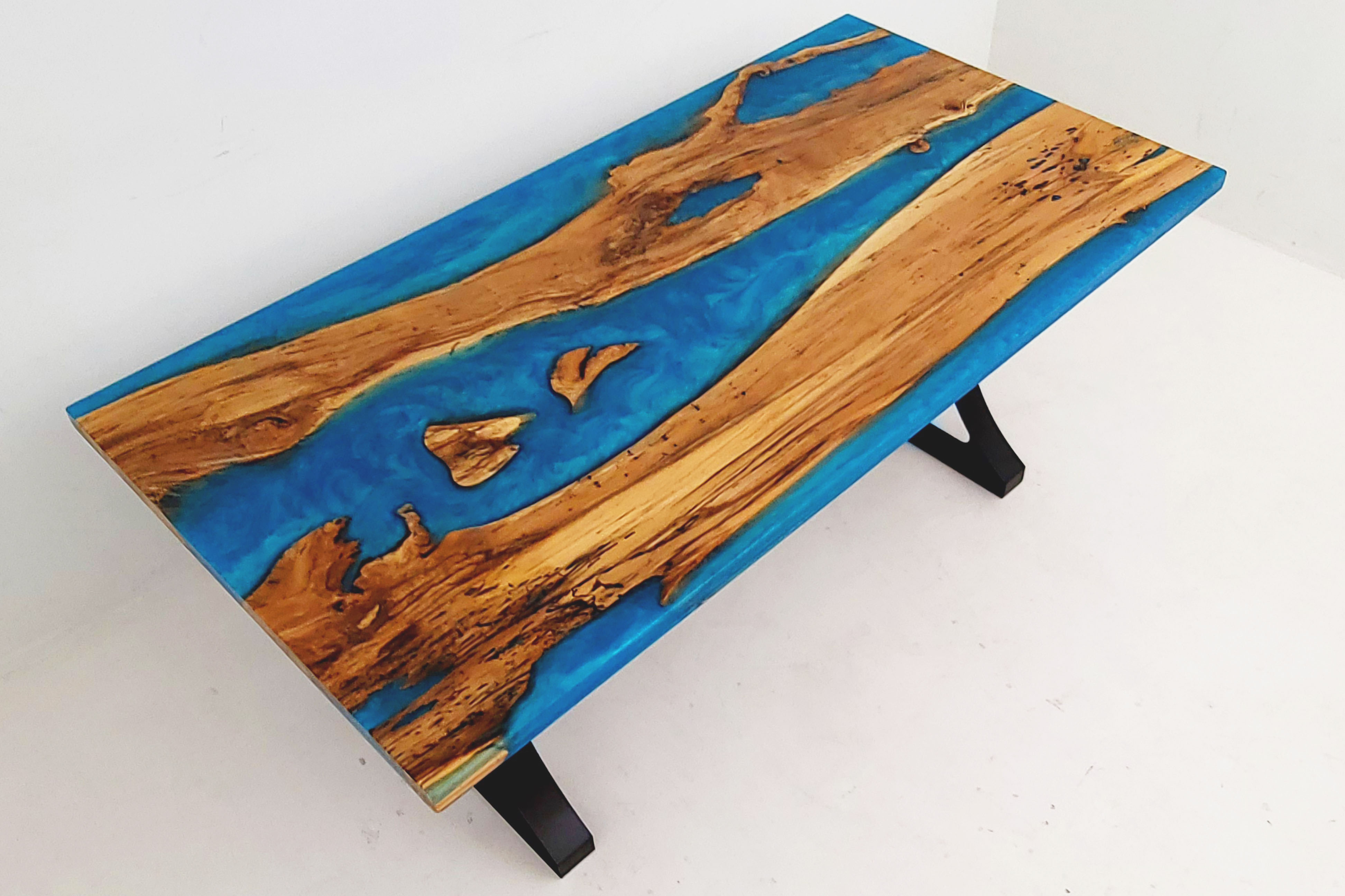 CVCF has created hundreds of epoxy river tables over the years. We use only the highest quality epoxy ands resins for our tables and have refined methods of applying the epoxy to different woods and designs. We have dozens of standard epoxy colors available or we can custom make a color of your choosing. Everything from Black Onyx to Bora Bora Blue to green to Dragon's Breath Orange to Clear Epoxy. Many of our clients prefer the clear epoxy – perhaps with just a hint of color – so that the convoluted live edge and other distress factors in the wood are visible even beneath the epoxy surface.
Making the Biomorphic Tabletop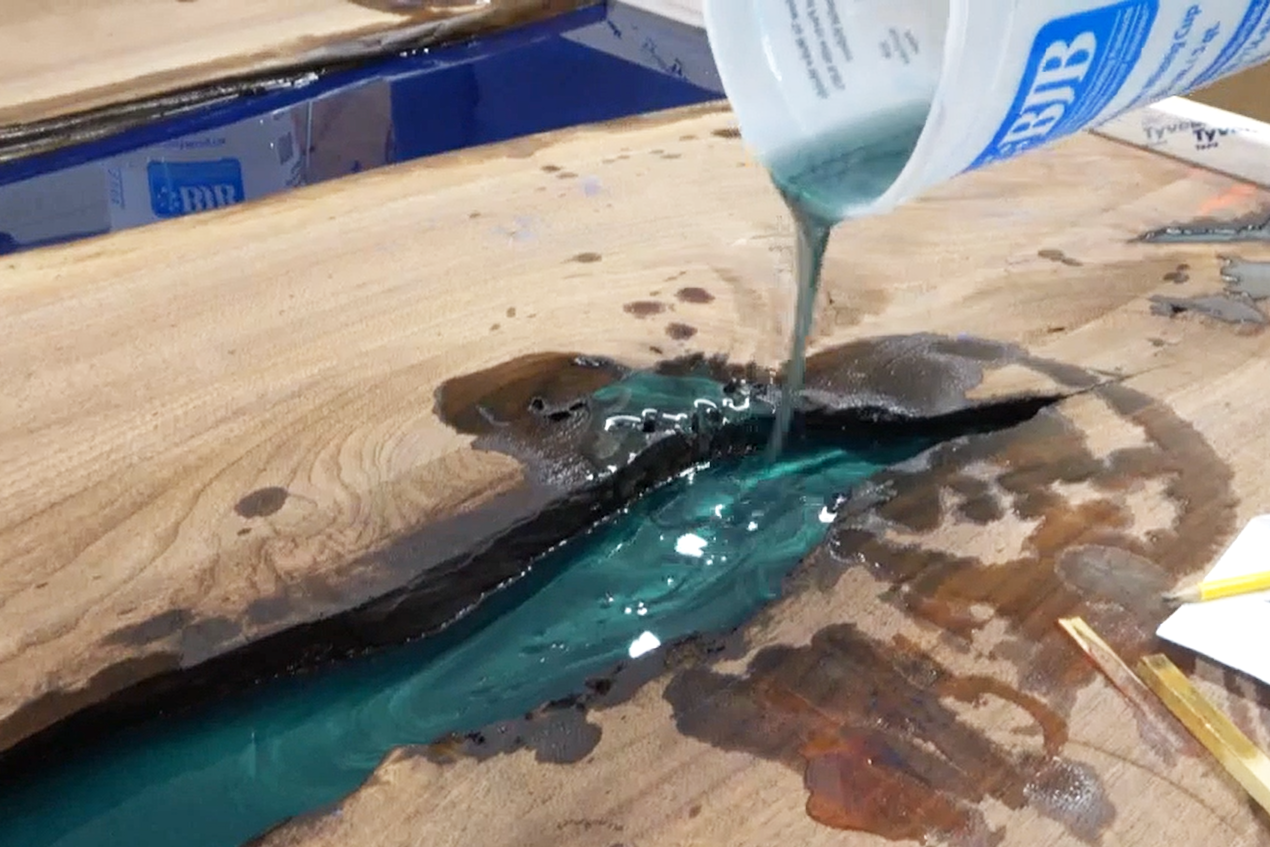 To make a biomorphic tabletop, we start by removing the rot and other areas that could cause structural problems. Then we slice and dice the slabs and place them like puzzle pieces in a large wooden mold that we build. With the clients approval of the slab placement, we begin the epoxy pour process.
Epoxy resin is as strong as wood and acts as both a decorative element and a bond for the separated pieces of distressed wood. Epoxy pours in normal river tables are fairly shallow, about an inch, and can require up to 4 pours with up to a 72-hour drying period between each pour. In biomorphic tables, there is no wood base to support the epoxy. So the pour will go to the full depth of the tabletop – usually about two inches. The epoxy pour is both an art and an engineering feat. Quality epoxy resin and extensive knowledge of its properties are required to ensure a a strong reliable epoxy bond when cured.
But there's more. The distressed wood invariably is pocked with the imperfections we talked about earlier. These are filled with epoxy as well. The gouges, cracks, indentations, insect trails, etc. THe end result is a stunning concoction of colors, textures, and patterns known as a biomorphic epoxy and wood table.
Causes of Naturally Distressed Wood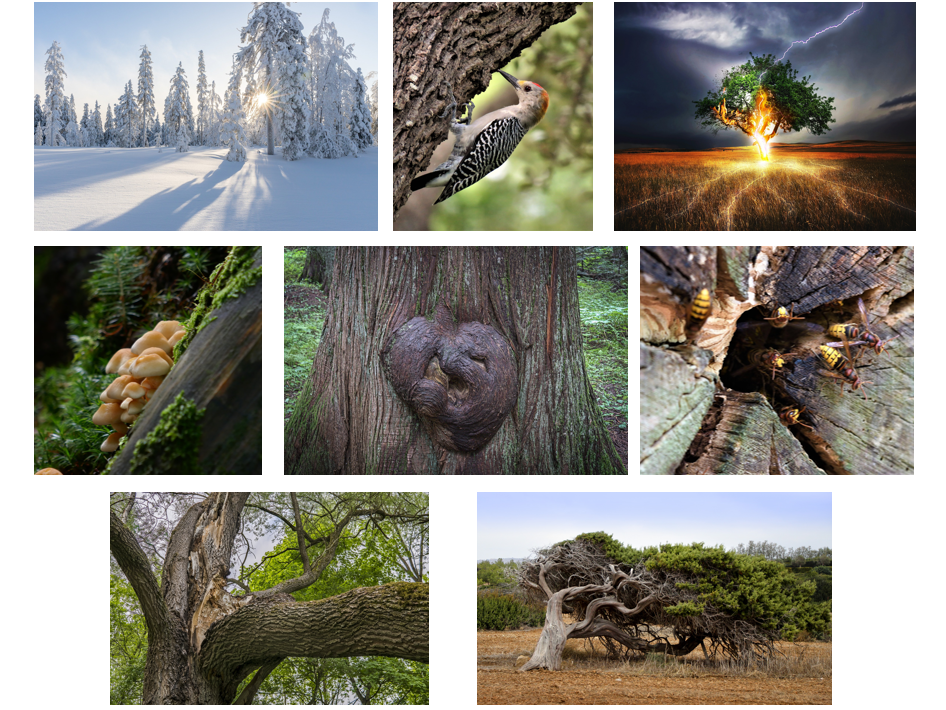 A tree lives many years and is subject to all kinds forces of nature that can cause natural distressing. Birds peck at the tree for insects, creating holes in the wood. Lightning strikes scar and burn the wood. High winds bend the tree trunk, causing stretch marks and twisting of the grain. Ice and snow crack the wood. Broken branches create knots in the wood. Fungi such as mushrooms attach themselves to the tree trunk and emit a chemical that discolors the wood. Insects burrow into truck and leave trails in the wood. Injury to the young tree can create a burl, causing twists and swirls and knots to form in the wood as the tree grows. They are all beautiful creations of nature.
One slab can contain signs of multiple forces and injuries. We say: The more the better for furniture (though not necessarily for the tree, itself).
Finishing the Table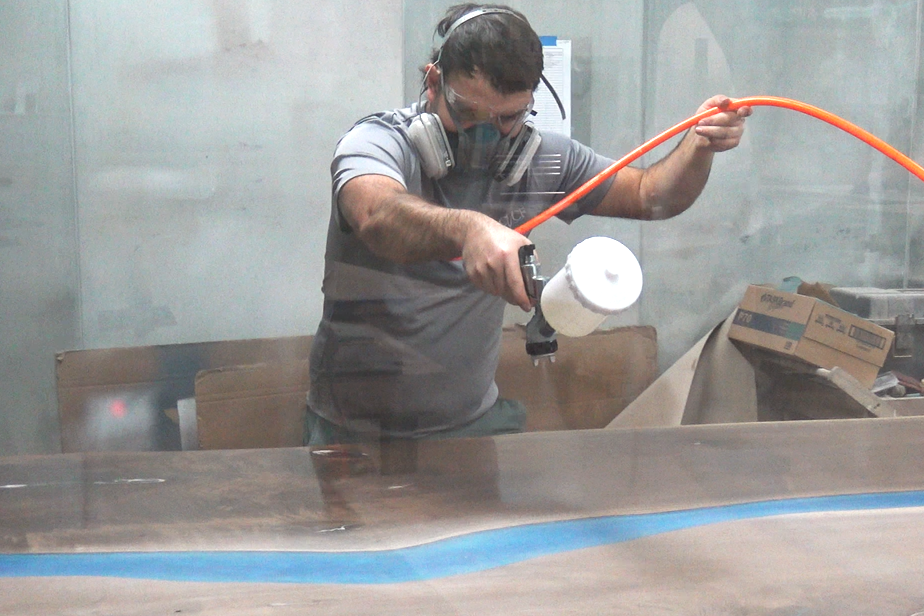 Once the epoxy is cured, the surface is sanded to a smooth surface. Then it goes into our large, dust-free spray room for a super-smooth and extra-tough coat of catalyzed varnish. This process of sanding and spraying is repeated 2-3 times in order to create a beautiful sheen to the wood.
Finally, the legs or bases are attached and, "Voila", there you have a one-of-a-kind custom made biomorphic epoxy and wood table or desk.
Learn More About Our Biomorphic Epoxy Furniture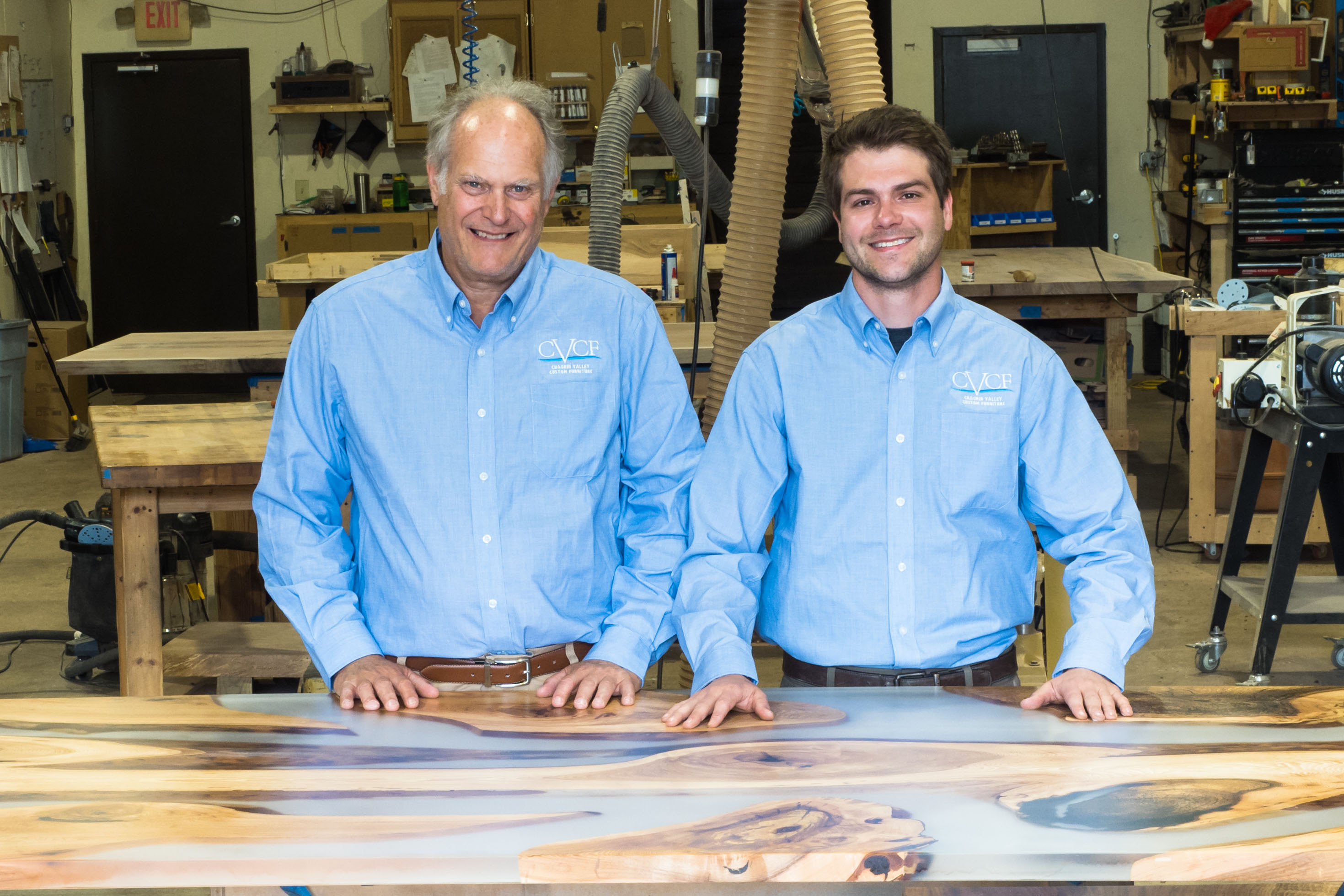 To learn more about our biomorphic epoxy and wood furniture or to order your own biomorphic table or desk, call 440-591-5511 and speak with Sheldon Myeroff or Zach Schulte. You can also email customerservice@chagrinvalleycustomfurniture.com or fill out a "Submit an Inquiry" form by clicking here.