Time for an upgrade to your kitchen or dining room? A good place to start is with your dining table. An Epoxy and Wood River Dining Table will make a big impression on your guests and are an exciting feature to have in your presence every day – it NEVER gets boring! You can buy a custom handmade live edge dining table or an epoxy resin river dining table online here, locally or call 440-591-5511 to order a one-of-a-kind dining table custom made for your house. At Chagrin Valley Custom Furniture, we specialize in epoxy resin furnishings and can help you get the dream luxury table you've always wanted. Our team of furniture artists, designers, craftspeople and artisans can help you fulfill your vision simply by going online and requesting a quote on your project. We have built hundreds of dining room and kitchen tables – all handmade and made-to-order – and delivered them to upscale homeowners across the United States – from New York to Florida to Texas to California to Michigan. Of course, we serve our own neighbors in Northeast Ohio, as well.
Biomorphic Epoxy & Wood Dining Tables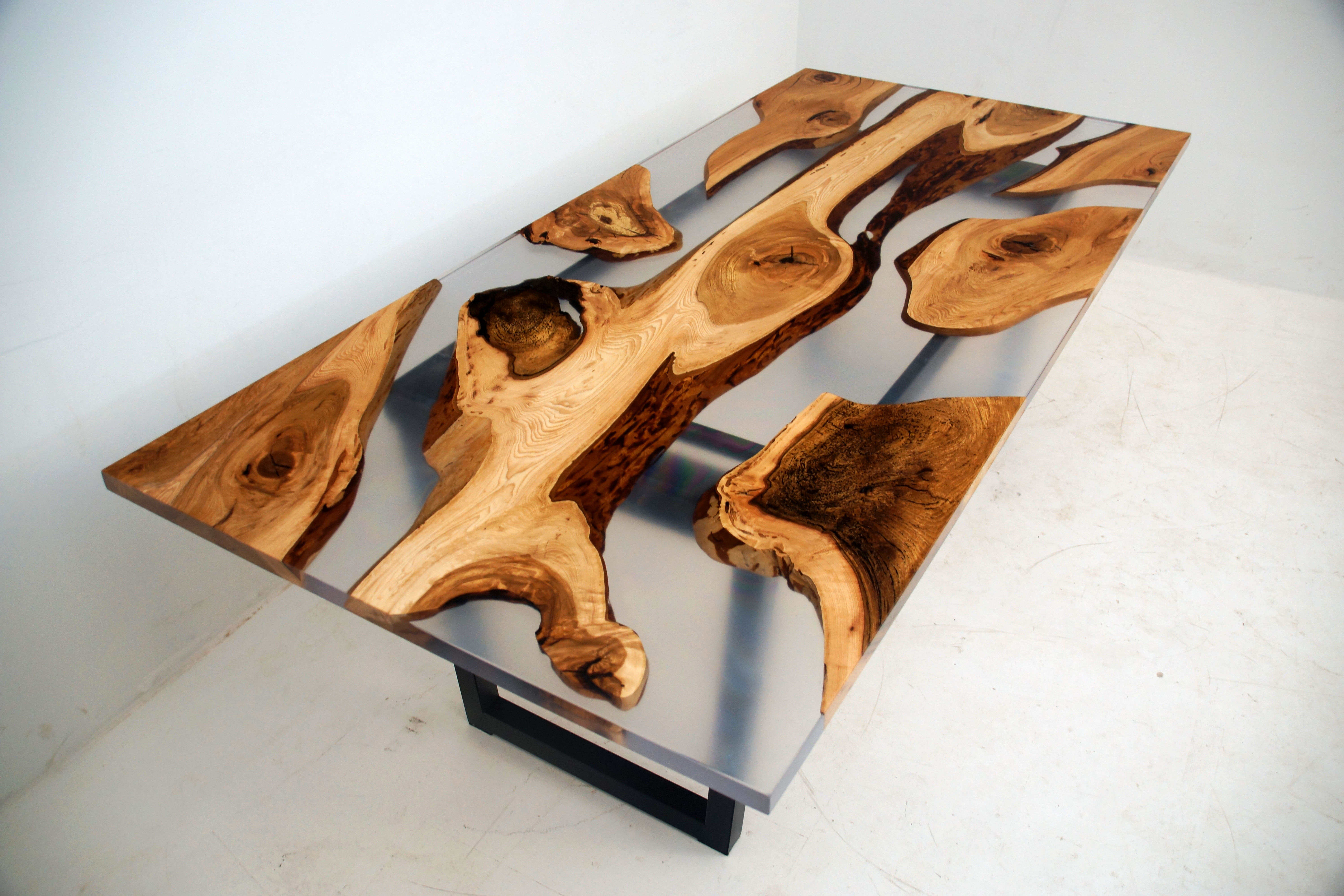 Most river tables are typically made by taking two live edge slabs of wood and pouring colorful epoxy resin between the slabs. However, Chagrin Valley Custom Furniture takes it a step further by using naturally distressed wood slabs and pouring epoxy into all the naturally occurring holes, gouges, cracks, bird pecks, animal burrows, knots, burls, and so on. These are called "biomorphic" tables because they echo the patterns and shapes found in nature.
Watch Our Video on Custom Made Epoxy & Wood Dining Room and Kitchen Tables
In this video, you'll see dozens of custom-made one-of-a-kind dining tables we've co-designed with our customers. Watch the video to see dozens of custom-made, one-of-a-kind dining tables we've co-designed with our customers and see how you, too, can design and order your own original Custom Wood Dining or Kitchen Table, with or without epoxy, online from Chagrin Valley Custom Furniture. You'll also learn about the options available that go into formulating the design and determining the pricing – the different types, styles, designs, shapes, seating, legs and bases, epoxy colors and more. And we give you some ballpark figures on the costs of different types of dining tables for sale. Prices are based on size, wood species, live edge/not live edge, rivers/epoxy fills, engraved names, engraved logos, embedded objects in epoxy, etc. Every dining table is unique and an expression of the people who order it.
Tell Us Your Design Idea, Select the Materials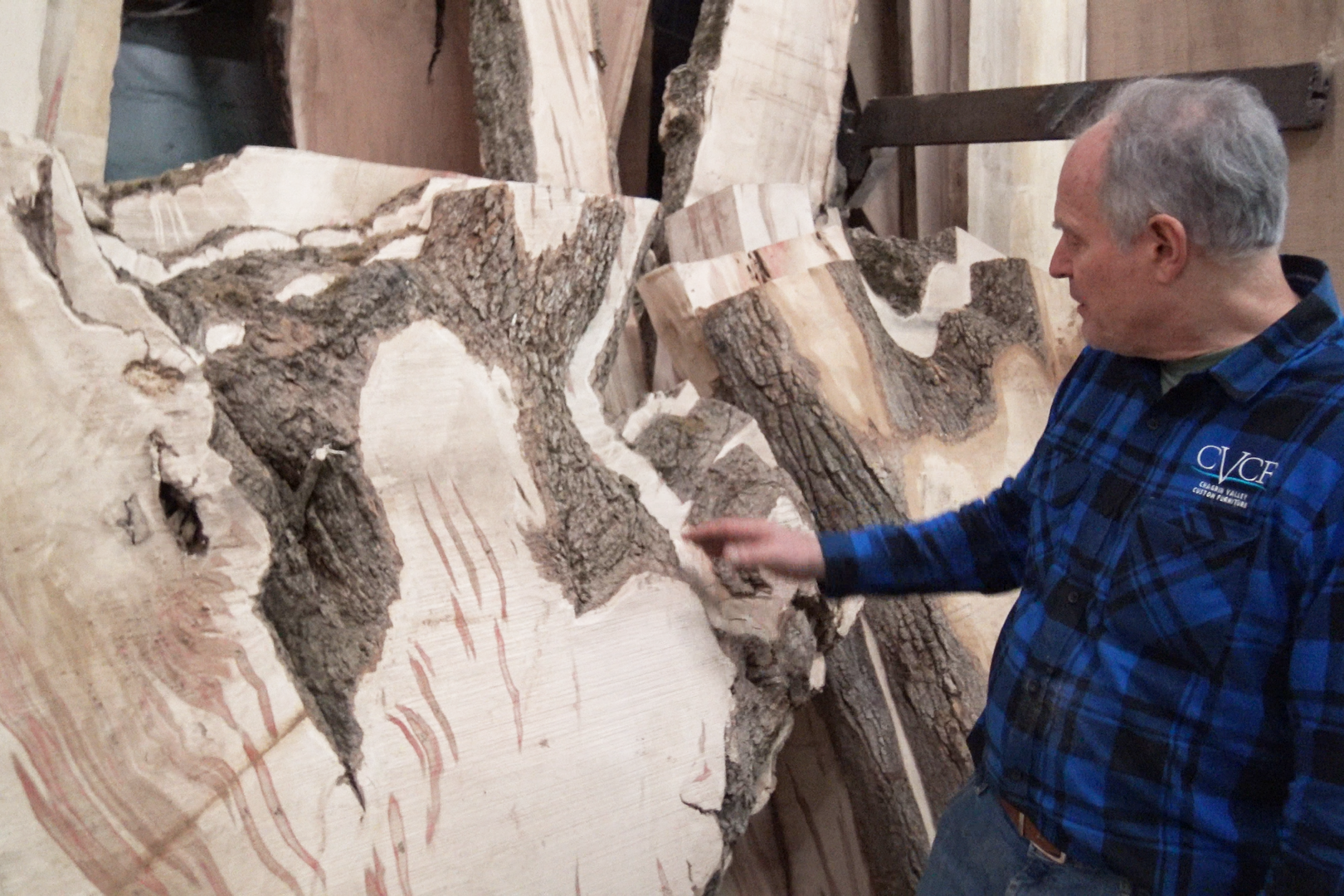 Chagrin Valley uses Zoom, Facetime, phone calls, emails and texts to keep you fully involved in the design and the selection of materials for your custom dining table. We make our dining tables from locally-sourced, sustainably-harvested natural wood, reclaimed wood and live edge wood. You choose your own wood slabs – cherry, walnut, oak, hickory, maple, elm and more – plus the materials and epoxy resin color. Tell us what style you want – industrial, modern, rustic, contemporary – you name it, we'll build it. We pride ourselves on having what we feel are the highest quality river tables built in America.
Epoxy-Filled CNC Engraved Images in the Tabletop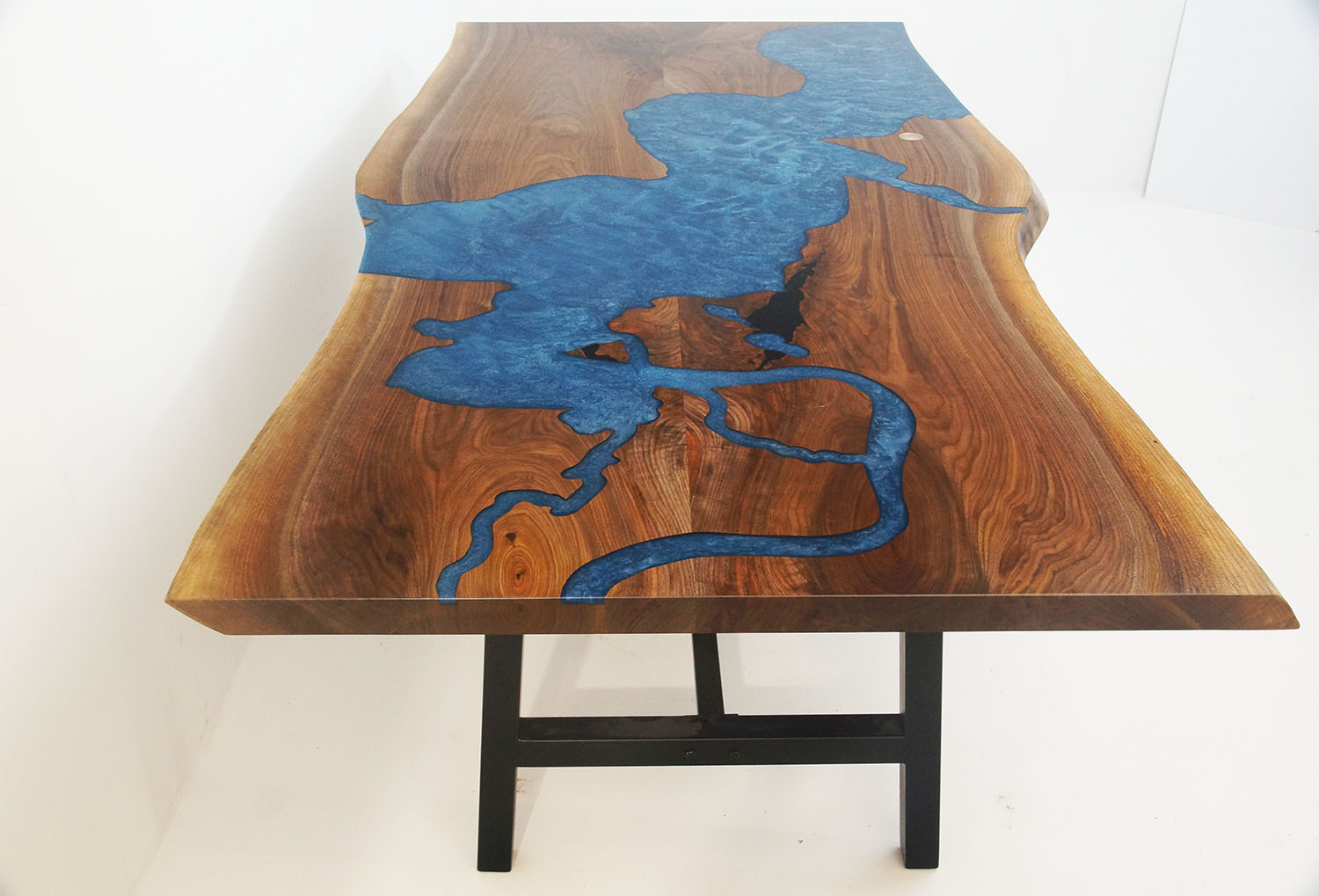 With our CNC machine, we are able to engrave names, logos, topographic waterway features, and other artwork into our epoxy river dining tables. Our furniture artists create 3-D models and computer renderings that we input into the Shaper CNC router for precision cuts. We have built 100% customized tables for businesses and homeowners all across America.
Resources to Find Out More About Epoxy & Wood Dining & Kitchen Tables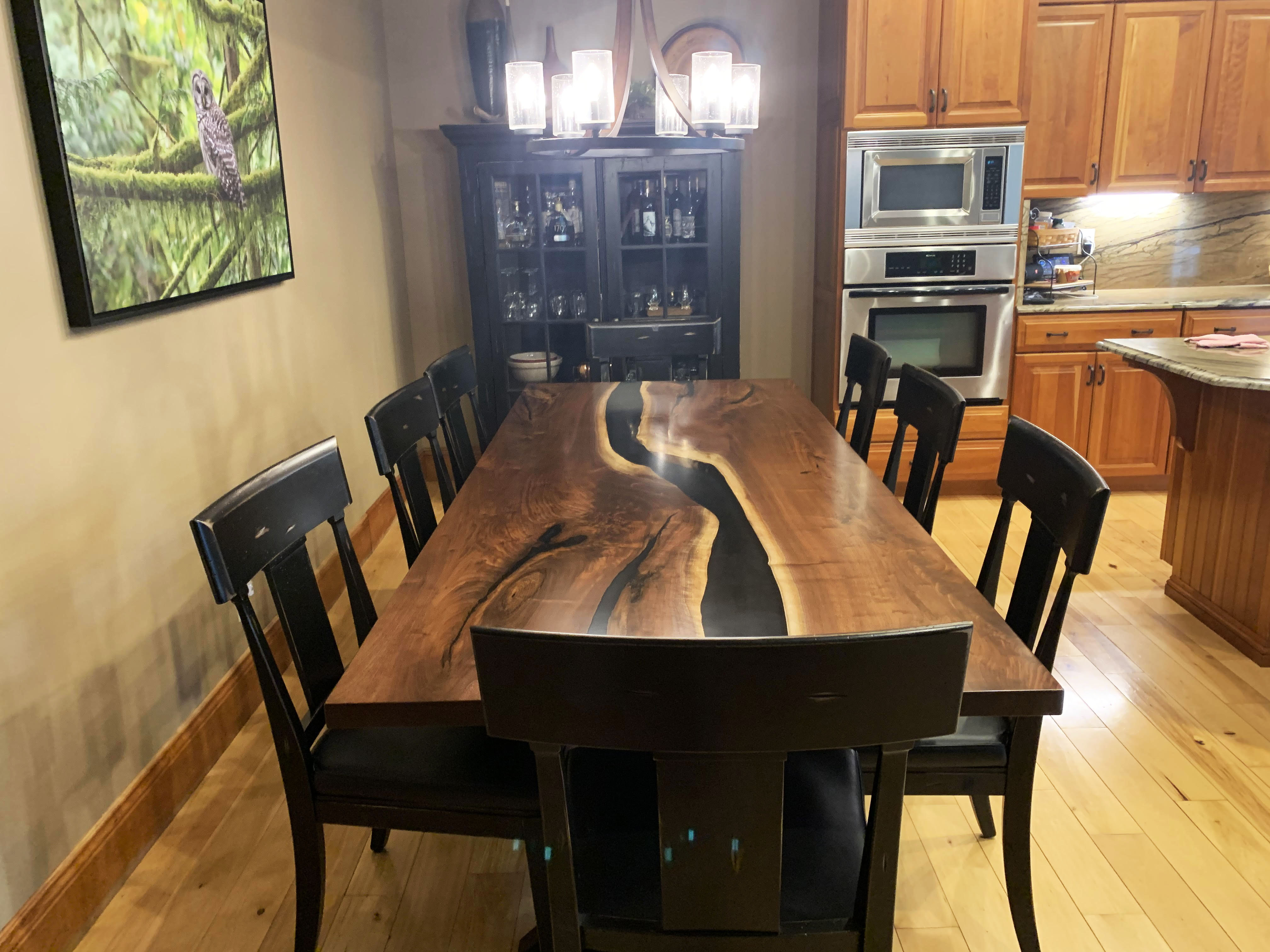 Visit our website for more information: Website: https://www.chagrinvalleycustomfurnit…
For a quote on handcrafting your furniture design and installing it in your homhttps://www.chagrinvalleycustomfurnit…e or place of business anywhere in the USA, call 440-591-5511, or email customerservice@chagrinvalleycustomfurniture.com.
To see a video on our company, products, and people, click here.
To see our Gallery of Custom Dining Tables, click here.
To see our Gallery of Handcrafted Dining Room Furnishings, click here.
For prices on custom furniture, click here.
To see pictures of some of our most popular epoxy resin and wood river furniture, epoxy colors, legs, embedded items and lights, wood species, and seating choices, click here.
To Submit Your Design Idea, click here.
Watch a video on the Highest Quality Live Edge River Tables in America. Click here.
To see our custom live edge epoxy resin river table gallery, click here. : https://www.chagrinvalleycustomfurnit…
For design options for river table epoxy colors, wood species, legs and more, click here. : https://www.chagrinvalleycustomfurnit…
To fill out a form and request an estimate, click here. :
To learn how to draw, design, measure, make and order your own custom built furniture, click here.
To see our custom made furniture gallery, click here.