Get Ideas, Easy-To-Follow Step-By-Step Instructions For Furniture Design Online, Tool Tips And Material Options To Design, Build And Make Your Own DIY Wood Furniture Project Or Couch At Home
How To Design Furniture [Design Ideas, Plans And PDFs]
Posted On YouTube On June 19, 2015 By Doucette and Wolfe Furniture Makers [DoucetteandWolfeFurniture.com]

Tips And Plans For Building Your Own DIY Handmade Live Edge Furniture And Woodworking Projects
How To Handcraft Wood Furniture [Simple Instructions And Good Advice]
How To Build Custom Designed Wood Furniture [Key Hand Tools And Power Tools]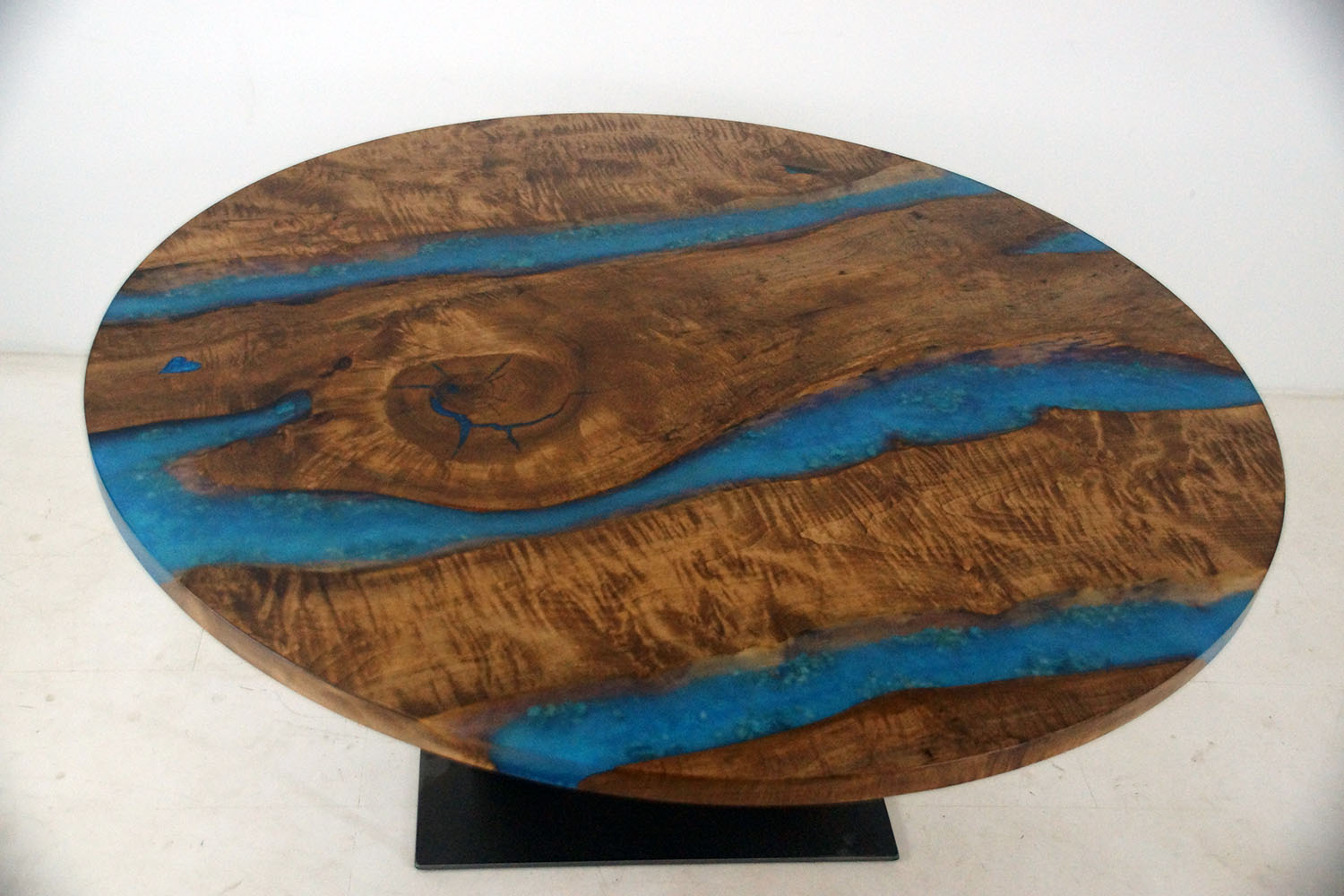 Learn About Building River Tables And Epoxy Resin And Wood Furniture From Chagrin Valley Custom Furniture
Small river tables range from $800 – $4,000, and larger river tables range from $1,800 – $6,500. Get more river table prices, here.
CVCF frequently uses wood slabs that are 2″ thick to custom build sturdy river tables for customers that order locally and online in the U.S. After sanding, these 2″ thick slabs end up being about 1 3/4″ thick.
Are river tables strong?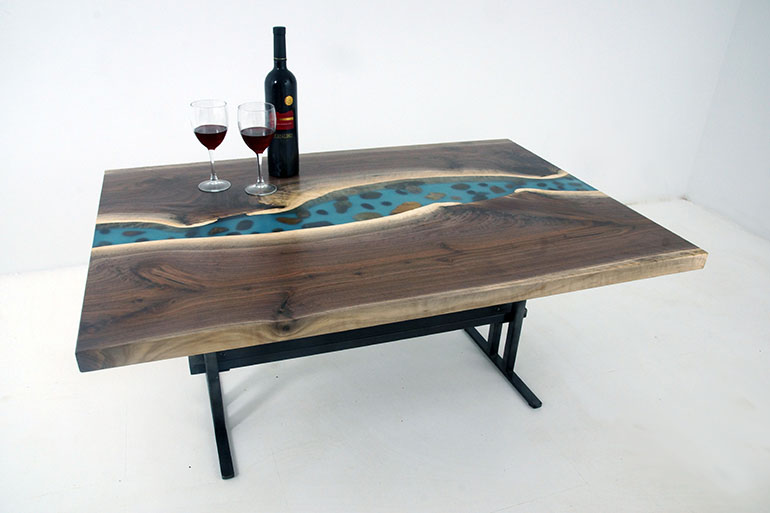 Why is epoxy so expensive?
What is the best epoxy for a river table?
How To Make Furniture [Photos And Videos]
Crafted Workshop, created by Johnny Brooke, posts how-to project videos about making furniture, woodworking and metalworking. In this video, there is a list of the 5 basic woodworking tools recommended for beginners to DIY and woodworking. These tools should enable you to build almost anything, and will still be useful even if you upgrade to larger stationary tools later on. These tools also make great gifts for any of the woodworkers in your life.
Watch this great video tutorial demonstration to easily learn the basic steps of designing and building furniture by using SketchUp.
Before you build furniture, create a simple plan on paper. To make furniture or a woodworking project, start with detailed plans on paper and use exact dimensions and scale drawings.

As you may have heard before, making your own furniture is actually not as difficult or as complicated as you think. In fact, some projects are so easy anyone could successfully complete them. For example, making a cute stool out of a old tire is a real piece of cake and if you're in need of a coffee table you can easily put one together using wood crates. There are a lot of ideas worth exploring so start with the 10 DIY furniture ideas for absolute beginners.

12 Inch Ruler, Straight Edge, Aluminum Yardstick, Tape Measure And Combination Square
Tool Belt And Tool Box
Cutting Tools, Scissors, Tin Snips, Aviation Snips, Wood Scissors, Offset Snips, Sheet Metal Cutting Scissors,
Pencil, Magic Marker, Sharpy And Crayons
Sand Paper And A Power Sander
Paint Brush, Paint Sprayer, Painter's Tape, Paint Roller, Wood Filler, Tack Cloth, Dust Mask And Masking Tape
Claw Hammer, Ball-Peen Hammer, Framing Hammer, Club Hammer, Sledge Hammer, Machinist's Hammer, Cross And Straight Peen Hammer, Joiner's Mallet, Soft-Faced Hammer And Wooden Mallet
Handsaw, Circular Saw, Jig Saw, Radial Arm Saw, Table Saw And Compound Miter Saw
Wood Cutting Knife, Pocket Knife, Wood Carving Knife, Putty Knife, Whittling Knife, Draw Knife, Spear-Point Marking Knife, Awl, Japanese Woodworking Knife, File And Chisel
Jointer, Planer, Handplane, Block Plane, Thickness Planer And Smoothing Planer
Hand Drill, Power Drill, Screw Gun, Cordless Drill, Benchtop Drill Press And Drill Bits
Wood Router, Plunge Router, D-Handled Router, CNC Wood Router, Double Knob Handled Router, Fixed-Base Wood Router, Combo Router Kit, Laminate Trimmer, Combination Router, Variable Speed Router
Select From The Following Options For A Custom Solid Wood Table Made To Order Just For You
Table Length (36″, 48″, 60″, 78″, 120″, Etc.)
Table Width (18″, 24″,32″, 36″, 40″, 4'6″, Etc.)
Table Height (16″, 18″, 28″, 30″, 34″, 40″, 42″, Etc.)
Table Depth (24″, 30″, 36″, Etc.)
Table Shape (Rectangular, Square, Round, Oval, Boat, Circular, U-Shaped, Racetrack Oval, Rounded Corners, Etc.)
Table Top Thickness (1″, 1.5″, 1 3/4″, 2″, 2.5″, Etc.)
Table Seating Capacity, (2, 4, 6, 8, 10, 12, Etc.)
Table Type (Dining, Kitchen, Coffee, Conference, Parsons, Bar, Extendable, Wood Slab, River, Ocean, Chess, Bedside, End, Gaming, Pool, Waterfall, Drafting, End, Sofa, Coral Reef, Cocktail, Console, CNC Engraved, Vanity, Corner, Picnic, Accent, Bar, L-Shaped Table Desks, Nested, Outdoor, Residential, Work, Commercial, Kitchen Island, Etc.)
Table Design Style (Farmhouse, Industrial, Modern, Rustic, Live Edge, Lift Top, Shaker, Hospitality, Contemporary, Epoxy Resin River, Harvest, Drop Leaf, Folding, For Small Spaces, Antique, French Country, Queen Anne, Vintage, Artistic, Mid-Century Modern, Pennsylvania Dutch, Traditional, Etc.)
Wood Species & Type Of Table Top (Walnut, Natural Wood Slab, Live Edge, Figured Maple, Brown Maple, Hard Maple, Logs, White Or Red Oak, Hickory, Elm, Solid Wood, American Hardwoods, Alder, Mahogany, Cherry, Birch, Ash, Fir, Teak, Rosewood, Reclaimed Wood, Pine, Exotic, Etc.)
Table Legs & Base (Trestle, Trapezoid, Single Pedestal, Double Pedestal, Wood, Metal, Steel, Cross, Bold Down, Bar Height, Single Solid Leg, Tree Stump/Trunk, Turned Legs, Post, Etc.)
Table Top Coating, Sheen, Finish, Paint Or Stain (Epoxy Resin Topcoat, Urethane Topcoat, Polyurethane, High-End Clear Coat, Tung Oil Satin Finish, Semi-Gloss Varnish, Water-Based Finish, Oil-Based Finish, Urethane Varnish, Etc.)
Table Hardware And Parts (Leaf Supports, Table Locks, Fasteners, Drop Leaf Supports, Nailhead Trim, Surface Mount Corner Brackets, Pins, Braces, Table Lift Mechanisms, Slides, Blanks, Table Leg Brackets, Sockets, Lever Locks, Extension Hardware, Hinges, Knobs, Pulls, Bumpers, Casters, Connectors, Wheels, Edge Covers, Feet, Decorative Hardware, Folding Hardware, Etc.)
Table Materials (Wood, Epoxy Resin, Glass, Natural, Steel, Brass, Laminates, Formica, Synthetic, Cast Iron, Marble, Granite, Plastic, Plywood, Stainless Steel, Quartz, Leg Feet, Etc.)
Choose From A Wide Variety Of Furniture Materials When You Design Your Own Furniture
Solid Hardwoods
Wood Species Used To Make Custom Furniture And Custom Cabinets: English Oak, American Black Walnut, Plane (Lacewood), American Cherry, Mahogany, Teak, Beech, Cedar, Birch, Hickory, Kingwood, Sugar Maple (Hard Maple), Red Oak, European Walnut, American Whitewood, White Oak, Yellow Poplar, English Walnut, Peruvian Walnut, Woods From Trees In Ohio, Western Hemlock, Yew, Box, Douglas Fir, American Red Oak, Western Red Cedar, Indian Laurel and British Elm.
Soft Woods Such As Pine And Longleaf Pine (Not So Soft)
Reclaimed Wood From Homes And Factories
Kiln Dried Wood Slabs, Natural Edge Slabs And Live Edge Slabs: Ash Natural Edge Slabs, Camphor, Chinaberry, Eucalyptus, Bubinga, Boxelder, Buckeye Burl, Butternut, Tigerwood (Goncalo Alves), Indian Rosewood, Ipe, Cherry, Cypress, Elm Natural Edge Slabs, Hickory, Mahogany, Maple Bigleaf, Live Oak, Monkey Pod, Norfolk Pine, Sycamore, Maple Figured, Maple Hard/Soft, Mappa Burl, Oak, Red/White, Pine Natural Edge Slabs, Poplar, Redwood Old Growth, Sassafras, Sycamore, Brazilian Cherry (Jatoba), Laurel Oak, Leadwood, Walnut Black, Walnut Claro And Other Species
Industrial Materials
Repurposed Furniture And Materials
Barn Wood (Barnwood) And Barn Beams
Metal, Steel, Alloys And Stainless Steel
Furniture Protectors And Covers
Steel And Metal Table Bases And Legs
Wood And Metal Table Frames
Rectangular, Round, Square And Oval Glass Table Tops
Gray, Bronze, Laminated And Frosted Glass
Pattern Glass, Back Painted And Tinted Glass
Hardware For Sliding Barn Doors, Interior Doors, French Doors, Bi-Parting Barn Doors, Single Panel Barn Doors, Three And Four Panel Doors, Z Panel Doors Dutch Doors, Cabinet Barn Doors And Pocket Doors
Fasteners, Screws, Nails, Face Frame And Frameless Hinges, Tracks, Drawer Pulls, Finger Pulls, Handles, Locks, Brass Hooks, Polished Nickel Cabinet Knobs, Decorative Hooks, Timber Plates, Cabinet Bumpers, Casters, Classic Style Hardware, Rustic Style Hardware, Modern Hardware And Farmhouse Style Hardware
Tempered Glass Table Tops, Glass Shelves And Door Panels
Clear, Bronze And Grey Mirrors
Glass With Beveled, Flat Polished, Pencil Polished And Seamed Edges
Standard Clear Glass, Ultra-Clear Low Iron Glass, Acid-Etched Glass, Warm Brown Glass, Smokey Gray Glass
Granite, Marble, Concrete, Stone And Cement
Epoxy Resin
Plastic And Vinyl
Stain, Varnish, Lacquer, Paint And Solvents
Natural Fibers And Fabrics Such As Linen, Wool, Silk, Rayon And Cotton
Synthetic Fibers Such As Nylon, Acrylic, Polyester, Polypropylene, Olefin And Microfiber (A Blend Of Polyester And Polyamid)
Leather
Upholstery, Webbing, Padding And Springs
Free Custom Furniture Design Tools And Videos
Learn How To Design, Build And Buy Your Own Modern Custom Furniture Online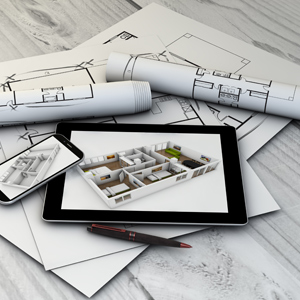 Learn how to design and make versatile and comfortable solid wood furniture, epoxy resin furniture, live edge wood slab furniture and steel furniture here.
Review the basics steps and checkout helpful pictures.
Watch this video to learn how you design your own custom furniture online, submit your design and get it custom built. Watch this video to learn how to shop and source furniture online.
Then build the furniture you envision or take the easy route and get it built by one of the top American custom furniture makers and builders.
Look at pictures of trendy custom furniture and download free custom furniture design plans online here. Learn the best way to measure your living space, dining room, kitchen, office or bedroom and to record the exact dimensions.
It Is Simple And Easy To Get Started Designing Your Own Furniture At Your Desk Or Online With Your Phone Or Computer
First, Envision Your Own Custom Furniture Design Concept For A Live Edge Dining Table, Epoxy Resin And Wood Slab River Table, Home Office Desk, Oversized Bed Or Kitchen Cabinets
Next, Determine The Various Functions Your Furniture Will Serve To Precisely Fit Your Needs [Eating, Working, Sleeping, Storage]
Continue The Furniture Design Process By Absorbing Creative Influences That Inspire You On YouTube, Instagram, Pinterest, Facebook Or Etsy
Get A Few Simple DIY Design Ideas For Your Dream Furniture Project From The American Home Improvement Television Show Host Known For This Old House [Bob Vila]
Learn The Easiest Way To Build A DIY Couch Without Spending Your Life Savings, Here
Learn About The Best Online Furniture Stores In The U.S.
Consider Buying Customizable Furniture And Home Décor From An Online Retailer
Start With The Basic Shape Or Form In Order To Make A Visual Interpretation Of Your Furniture Design Concept [Rectangular, Square, Round, Oval, Boat, Circular, U-Shaped, Racetrack Oval, Rounded Corners, Etc.]
Learn About Standard Furniture Dimensions, Here
Before Starting On Your Interior Design Project, Learn About Different Furniture Shapes [Diamond Shaped Furniture, L-Shaped Furniture, 3D Furniture Shapes, Contemporary Shapes & Rustic Styles]
Learn Custom Furniture Measuring Techniques And Tips To Help You Work Faster, Here
Learn Simple Woodworking Tips for Making Measurements and Layouts, Here [2016 YouTube Video]
Sketch Your Own Furniture Design On Paper, Draw It On A Tablet, Layout It Out With Graph Paper, Draw It Digitally, Diagram It With A Free Online App Or Download Free Software To 3D Model It
Build A Custom Furniture Design Model Online Or Build A Scale Model With Cardboard [Optional]
Start The Next Phase Of Your Custom Furniture Design Project
How To Build Your Own Custom Designed Furniture
To Save Time And Money You Need To First Plan And Prepare To Custom Build The Furniture You Designed
Learn About The Essential Tools Every DIY Furniture Builder Needs In Their Workshop
Decide What Woodworking Tools, Power Tools And Hand Tools You Will Need And Buy The Tools You Don't Already Have
Build The Furniture Framework And Then Add Accessories And Accents
Test And Use Your Furniture To See If You Need To Make Adjustments
How To Order The Furniture You Custom Designed
Approve The Quote And Pay A Deposit By Check Or Credit Card
Co-Design Your Custom Furniture With CVCF
Approve The Completed Furniture Project By Reviewing Pictures And Pay The Balance Due
Schedule Shipping For Your New Piece Of Furniture
Custom Design Your Furniture Online With The Expert Designers, Makers And Builders At Chagrin Valley Custom Furniture
Get Inspired To Design Your Own Furniture Online With Chagrin Valley Custom Furniture
Get design inspirations from high-resolution images and see furniture in 3D models with this app. Save and share your designs and plans. Submit your furniture design online for a price quote or call 440-591-5511 to talk with a furniture design expert. Learn about drafting equipment and tools used to design and draw furniture, here.
Get expert furniture design advice from the top American furniture designers and makers in the U.S., here. Download the best free furniture design software in 2020 for Windows and Mac here.
If you are building, remodeling, improving or decorating your house, get a virtual interior design app and ideas for your home, here. Download cabinet design and woodworking software for your business, here.
You can draw, design, measure, customize, make and order your own custom built furniture near you or online in the U.S. Use a free app or 3D modeling software or a pencil to design your own custom furniture. Learn how to visualize, sketch, plan, render and diagram your furniture plans.
Pick the perfect furniture and design your dream home, living room, bedroom, dining room or office and share your design with a free app. Use pre-installed dining room templates, living room templates and kitchen templates.
Use the best furniture design software programs to design awesome furniture online. Use Sketchlist 3D woodworking software (used by professionals) to design a virtual plan and generate reports for building cabinets, furniture and kitchen projects.
Download professional 3D CAD software (Autodesk Inventor) for mechanical design, product design, rendering and simulation, here. Download industry-specific furniture design software (Woodwork for Inventor) designed for woodworkers, here.
Use an Android or iOS home design and floor planning app to design your home virtually. Take a picture of a room and use your phone to create 3D designs. You can make modern and rustic furniture plans and use a "design your own furniture app" or free "design your own furniture software" if you want to make or buy custom handmade furniture.
You can use furniture design software to visualize, plan, diagram, sketch, draw, render and 3D model custom designed furniture. If you would like to learn how to design your own furniture, from start-to-finish, read "Design Your Own Furniture".
View High-Resolution Pictures And Fun Videos Of Cool Custom Furniture Designs
CVCF's expert furniture designers use 2020 Internet technologies and videotelephony products such as Zoom video conferencing, FaceTime, Dropbox, websites, furniture design software, texting and email to design furniture online with our customers.
CVCF furniture builders, epoxy resin artists and skilled craftspeople interface virtually and collaborate digitally with our clients online. We work diligently, hand-in-hand, with customers located throughout the U.S. during the entire design/build process to handcraft custom solied wood, steel, resin and metal furniture remotely.
Learn how CVCF co-designs custom furniture with U.S. based customers online and by phone here.
Buy custom furniture online or near you from Chagrin Valley Custom Furniture. Learn how to design and order custom furniture online here. Buy a modern custom sofa or a large custom made sectional near you or online, here.
To learn where to buy handmade custom built furniture in the USA, watch this video. To find out how you design furniture, submit your design and get it custom built, watch this video.
Stay At Home And Design Your Own Furniture
Because the COVID-19 pandemic has prompted more consumers to use digital solutions and e-commerce to commission a piece of custom furniture, Chagrin Valley Custom Furniture has refined the use of video calling applications to collaborate with customers on their design ideas for handmade tables, desks, beds and chairs.
CVCF understands that Americans want to stay at home to shop for custom built furniture and home décor to limit the spread of the coronavirus. CVCF's has made it easy for customers to make custom furniture design decisions online and to use e-commerce. While traditional retailers in the U.S. have seen a decline in sales since the pandemic started, CVCF has seen a surge in online orders for custom made furniture.
CVCF has not been impacted by the significant slow down in the U.S. supply chain because the firm sources its hardwoods and solid wood slabs from Amish lumber mills nearby in Ohio.
If you are looking for custom wood furniture makers in the United States, contact Chagrin Valley Custom Furniture. When you design your own 100% custom furniture, it should be a pleasure to pick out all the raw materials including the types of woods, metals, hardware, glass and fabrics.
Get tips on designing rustic furniture and Mid-Century Modern furniture here. Get ideas for designing and making your own eye catching and unique wood furniture here.
Chagrin Valley Custom Furniture manufacturers custom built epoxy resin wood furniture and epoxy resin river tables. View pictures of river tables that CVCF recently designed, built and delivered to customers in the U.S in 2020.
Watch a video showing how we created a 19′ CNC engraved Mississippi River conference table from wood, epoxy resin and steel, here. This black walnut river table was handcrafted for the corporate conference room of the Crescent River Port Pilots' Association, which is located in Louisiana.
Share Your Furniture Idea With A Professional Designer, Builder Or Maker
If you are a dreamer of great custom built furniture ideas, CVCF would like to see an example of the product you envision. If you are an up-and-coming furniture designer that wants to break into the furniture design business, CVCF can build your first furniture prototype, so go ahead and submit your custom furniture design here.
When designing your own furniture taking practical steps is important. Consider using a sketchbook to explore your ideas, look at other furniture or take a walk in the wood to get inspiration from the natural world.
When you complete the furniture design, you can send us a JPG, SolidWorks file, PDF or CAD Pro file. You can download CAD Pro® drafting software which will let you design, visualize, and document your furniture design ideas.
You can rough out an initial furniture design concept, design your own furniture online or create an accurate list of materials. On the other hand, you can simply draw the furniture using a pencil, ruler and graph paper, then scan your furniture design and email it to CVCF. You can also take a picture of your furniture layout with your phone and text it to us at 440-591-5511. To learn the fundamentals of good furniture design, click here.
If you want to make your own one-of-a-kind furniture, you can design or draw your own furniture and Chagrin Valley Custom Furniture will build it, install and assemble it for you, assuming you live in the continental USA. Our firm is passionate about creative furniture design.
CVCF always welcomes the chance to bid on simple or high-end furniture projects. Learn how the highest quality river tables and custom wood and metal furnishings are handcrafted in America in 2020, here.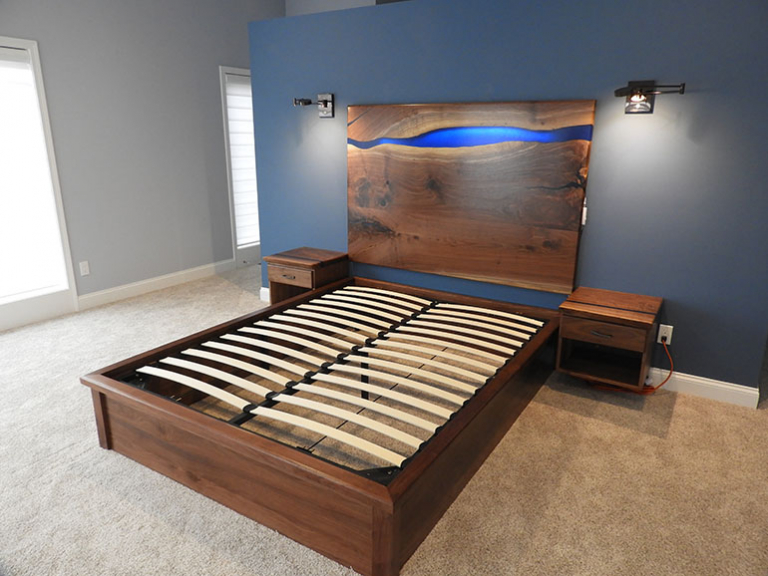 Many people ask us how they can send us example image files, custom furniture design ideas, plans or documents of their furniture project so that they can custom order solid wood and metal furniture.
To gain some insight into the custom furniture design process, or to submit your custom furniture design or CAD drawing, call 440-591-5511, email shel@chagrinvalleycustomfurniture.com or click here. CVCF also sells rustic furniture, live edge dining tables, epoxy resin headboards and river tables that are in stock here.
If you have designed your own piece of furniture that meets a very specific or unique need, submit your design here. If you use SolidWorks to design your own furniture, you can send us a CAD file or the part and assembly files. 3D files are often called models, parts, or assemblies while 2D CAD files are usually referred to as drawings.
File formats you can use to submit your furniture design to CVCF include .gif, .jpg, .pdf, .dwg, .ifc, .dxf, .png, .eps, .stl, .dae, .3ds, .dem, .ddf, .tif, .bmp, .pds, .tga, .fbx, .ai, .kmz, .obj, .wrl and .xsi. To learn the essentials of good wood furniture design from the WoodWorkers Guild of America, watch this great video.
If you want to take a course to improve your ability to sketch furniture, develop furniture designs, and create rendered perspective furniture drawings with both pencil on paper and CAD, click here.
Chagrin Valley Custom Furniture takes orders for small custom furniture design projects from local customers and clients all over the United States. Prices for small and simple pieces of custom furniture start at $229. Small custom furniture projects that we take on include custom made floating shelves, custom built live edge shelves, handmade rustic bookshelves, and one-of-a-kind contemporary bookcases.
And speaking of small pieces of custom furniture and home furnishings – CVCF is now supplying a growing demand in the U.S. for miniature versions of traditional furniture that being used in tiny homes, small apartments and small living spaces. CVCF even makes custom made ant farms for an online retailer. Now that is a small living space!
Other types of inexpensive custom made high quality wood furniture built by CVCF includes custom wood and steel coat hangers, coffee cup racks, spice racks, pet furniture, epoxy resin cutting boards ($275), dog and cat beds. Affordable home décor and accents that we handcraft for our customers include epoxy resin cutting boards, wooden picture frames, night stands, picture and mirror frames, plant stands, steel and metal table and desk legs, rustic step stools, storage cabinets and small benches.
Good Reasons To Buy Custom Furniture Near You Or Online From CVCF
There are a many good reasons to buy custom made furniture near you or online. Before you buy "cookie cutter" furniture from Williams-Sonoma, La-Z-Boy, IKEA, Rooms To Go, Steelcase, Sears or Ashley Furniture, consider having it custom made by Chagrin Valley Custom Furniture.
If you want a personalized and unique piece of furniture, get creative and call 440-591-5511 to get a price quote. If you need a dining table, sofa, desk or bed adapted to fit into your room, measure the space before you call. Because CVCF does not sell to middlemen and retailers, our prices for high quality custom wood and metal furniture are affordable to most buyers.
Prices for high-end custom furniture start at $3,000. We sustainably source our furniture and use reclaimed and recycled wood. We also sell custom made rustic furniture for lodges, cabins, resorts, cottages, second homes, ski chalets and western-themed rooms.
Be sure to avoid these mistakes when you buy custom made furniture. Buy custom furniture handmade with high quality raw materials and don't settle for low quality materials. Buy custom furniture online from the top American custom furniture designers, experienced builders and makers such as CVCF.
Don't assume that changing the color of a custom dining table or custom sofa means that you are buying real custom furniture. Authentic handmade custom furniture means that you can decide on every component of the furniture. When you buy custom furniture from CVCF you are "going local" because all our furniture is made in the USA.
There are many benefits to buying custom furniture. If you are picking furniture from the showroom floor, you are not really buying a unique style of custom furniture. Custom made wood furniture, such as farmhouse tables, are usually much sturdier than furniture you buy in a showroom.
Custom furniture ordered from CVCF will fit perfectly and you can add any feature you want. Handmade custom furniture from CVCF is an investment and is considered to be heirloom quality. To learn where to buy handmade custom built furniture in the USA, watch this video. To find out how you design furniture, submit your design and get it custom built, watch this video.
Listed after the rows of furniture design pictures shown below is a plethora of information about online apps, professional interior design software, furniture design books, furniture design tutorials, furniture plans and furniture design software that will give you the tools to design your own furniture.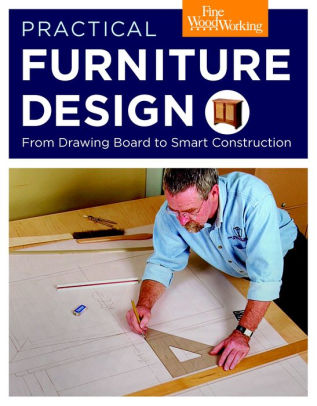 If you want to design your own furniture and make money doing it, learn how to become a professional furniture designer. A furniture designer typically gets paid about $50K and a normal hourly rate is about $24.
If you have designs and want to know how to get your furniture built, manufactured or sold, submit your designs here to get started. CVCF can custom build your prototype and down the road, once you have some orders from customers, we can build your furniture in bulk.
If you want to improve your ability to sketch furniture, develop furniture designs, and create rendered perspective furniture drawings with both pencil on paper and CAD, click here.
Are You An Aspiring Professional Furniture Maker?
The Center for Furniture Craftsmanship, located in the coastal village of Rockport, Maine, offers a Nine-month Comprehensive course from September 9, 2019 to May 29, 2020 designed for aspiring professional furniture makers and dedicated amateurs who seek in-depth training at the highest standard of excellence.
The hands-on, project-oriented format includes the full range of furniture making skills. Sequential projects take students from the fundamentals through the fine points of design and craftsmanship. Fedarko Furniture & Design owner Aaron Fedarko is a faculty member at the Center for Furniture Craftsmanship.
The projects and topics include: basic woodworking, machine joinery, finishing, drawing for design, casepiece construction, turning, CNC, veneering and marquetry, curvature, carving, product development, upholstery and chair making.
Are you a creative woodworker that makes handmade furniture and do you want to know how to sell your wood products? If you enjoy woodworking, considering selling your unique woodworking projects or handmade tables locally near you or on the Internet. Making and selling furniture can be challenging but for many custom furniture designers and makers, it is worth it. The U.S. furniture market is worth over $96 billion a year.
If you have a furniture design degree, find out the best ways to sell homemade furniture and custom built furniture, here.
Get a little guidance to help you figure out how to price and sell your own do-it-yourself (DIY) furniture, here. Get some advice to learn how and where to sell custom furniture, here. Learn how to become a successful furniture maker and how to make a living building custom furniture, here.
Do you want to know how to design, build, market and sell your own homemade furniture online near you or online on Etsy or Facebook Marketplace? Learn about selling your woodworking projects using Facebook ads and on Facebook Marketplace, here.
You will probably have more luck selling custom furniture on Etsy than eBay. However, if you want to try selling your own custom made furniture on eBay, get a few tips, here.
Custom furniture makers, builders and retailers who sell furniture on Amazon choose specific geographical regions for listing and shipping their handmade furniture. In contrast to Etsy, "Amazon Handmade" has a fairly strict vetting process. Find out how to offer white glove furniture delivery, assembly services and furniture removal services, here.
There are a number of ways to sell your custom furniture online. Shopify makes it easy to start a custom furniture business online. Learn how to start a handcrafted rustic wood furniture business online at Shopify, here.
If you want to go the "old school" route, find out how to advertise your homemade furniture locally or in your regional newspaper, here.
Learn how to selling your handmade tables at local furniture shops near you on a consignment basis, here. Find out the best ways to market and sell your custom solid wood and epoxy resin furniture at trade shows and local craft shows, here.
If you want to sell your own custom made furniture and home décor without designing and building your own furniture website, find out how the membership and marketing fees work on CustomMade.com, here.
If you want to make a ton of cash selling your custom furniture online, find out how to build a large online furniture store, here.
If you want to sell custom furniture online, you will need to choose a selling platform and then upload pictures of your handmade furniture. You will need to learn how to process credit card payments online.
One of the biggest challenges to selling custom furniture online is managing shipping fees and actually shipping your handmade furniture all over the United States.
You can use Google Ads to promote the custom furniture you sell online. If your custom furniture is truly custom, then you don't have to manage an inventory. However, if you are selling made-to-order furniture or prefabricated furniture, you will need to keep tabs on your stock. Learn how to grow you online furniture store, here.
Software For Furniture Design Online And Interior Design
Furniture design software allows you to create amazing furniture items on your PC. Whether you work as a furniture designer or you simply want to design your own pieces of furniture, the tools listed in this article will help you get the job done.
If you're a fan of modern and rustic wooden furniture or work wood professionally, then this is the perfect furniture design software for you. SketchList 3D simplifies the time consuming and repetitive woodworking design tasks, allowing you to work everywhere, in the shop or at your client's home. The solid 3D sketches allow you to mark even the tiniest details and quickly modify ten if something looks out of proportion.
The virtual boards also let you see how the elements of your design go together. Once you're satisfied with the end result, you can use Adobe 3D PDF to send your sketch to your clients so that they can see the 'before' version of your work. SketchList allows you to add joints and contours with just one click. You can use the default colors and grains when designing the furniture or create your own.
Solidworks a very versatile furniture design software that you can use for living rooms, dining rooms, bedrooms and offices. The CAD models support a wide variety of materials, including stainless steel furniture, wooden furniture, as well as custom-design furniture. You can use this tool to design virtually any type of furniture components, including desks, chairs, tables, office panels, and customize them according to your needs. To learn more about designing furniture in SolidWorks, watch a video tutorial here.
CAD Pro drafting software lets you design, visualize, and share your furniture design ideas. You can use this tool to design any piece of furniture that you want, from classic tables to extravagant chairs. When you're satisfied with the end result, you can then send your design as an image in your emails by selecting the "Send as Mail" option. You can also save your CAD Pro blueprint as a PDF file.
If you like to quickly sketch your furniture design ideas on paper, you can scan the drawing and then resume work in CAD Pro. Your initial scanned design becomes a traceable template that you can then modify and save. The software supports a series of additional feature that allows you to better communicate with the persons that you want to share the design sketches with.
For example, you can record your ideas and add voice instructions into your design blueprints or add pop-up text memos for more information.
PRO100 is a professional software for furniture and interior design. This tool will allow you to design the interior of kitchens, bathrooms and living rooms faster and more efficiently. One of the main strong point of this tool is the quality of visualization. The crystal-clear detailed images that PRO100 renders are very useful, allowing you to spot even the tiniest design details. The latest version of the tool brings even more impressive features to the table:
Design export to 3D panoramas (including VR glasses, mobile devices, web sites)
Swap any part, e.g. handles, fittings, drawers
Distribution tool (e.d. for shelves or lights arrangement at equal distances from each other)
Export to *.jpg files
is a very powerful tool that you can use for a variety of purposes, including furniture design. This software can deliver impressive interior design sketches, as well as specific furniture design images. If you haven't used a furniture design software before, SKetchUp is the perfect place to start.
This 3D drawing tool is intuitive, easy-to-learn, and efficient. Of course, the tool also supports 2D drawing. Once you finished your sketch, you can use the walkthrough function to go through every detail of your design and see how various pieces of furniture go together. This software can also generate presentation documents, allowing you to store and share your design ideas.
Designing your own furniture is so satisfying. If you want to design your own furniture and send CVCF your custom furniture design concept and dimensional drawings so that CVCF can build and assemble it for you, you can use Sketchup (formerly Google Sketchup).
This 3D modeling computer program can be used to design and draw many types of furniture including rustic and modern tables. Visit SketchupForWoodworkers.com to learn how to design, layout and print your dimensions, bookshelves, joints, furniture and cabinets.
Sketchup is great for woodworkers. Learn how to create a custom furniture design in Sketchup. Spend a few dollars and download the Sketchup Guide For Woodworkers Ebook. The book will show you how to precisely draw your furniture design, how to develop furniture plans and how to create shop drawings to submit to CVCF. You can create your own furniture online and CVCF will build it and assemble it for you.
Think through your custom furniture ideas and pre-build furniture with easy and enjoyable 3D modeling software. Turn your furniture ideas into reality. Start modeling a bed, table, desk or chair right away. Sketchup For Web is simple to use.
Open your favorite browser, launch Sketchup and get creative with a furniture plan. When it comes to designing furniture, measurements are important. Use Sketchup to pre-build your furniture in 3D views. Sketchup For Web is a subscription service you can use to share furniture designs with the furniture makers at Chagrin Valley Custom Furniture. You can use it to send your custom furniture design reference drawings to CVCF at 440-591-5511, shel@chagrinvalleycustomfurniture.com or submit your design online here.
Sketchup Shop is made for furniture designers and furniture makers. It is a subscription-based version of SketchUp for Web that includes professional-level features. Although you can open the program on an iOS, tablet, mobile device or Android device, the software works better on a desktop or laptop computer with a three-button mouse. You can use it to create amazing 3D woodworking designs and furniture designs that you can send to CVCF.
Most designers, regardless of their skill levels, find SketchUp-Pro one of the fastest and easiest CAD software programs for both creating and editing 3D & 2D designs. Sketchup Pro is a must-have tool for any Architecture or Engineering designer. Its simple interface, along with its variety of options, allows you to create very professional designs that will allow you to win the client you want.
Free And Professional 3D Interior Design Software
SketchUp isn't like most professional interior design software — it gets out of your way so you can draw whatever you want, however you want.
This innovation in home design software delivers the powerful tools and inspiration you need to transform your living space. You can plan room additions and other home improvement projects with ease, make your home energy efficient with new lighting and appliances, breathe new life into an outdated kitchen, bathroom or bedroom and so much more.
Directory of 25 online home and interior design software programs. 14 free and 11 paid options. Interior design, home design and landscape design software.
This video features our best custom furniture (mostly custom river table) projects we've produced and delivered throughout the year 2020. Projects ranged widely, from simple live edge walnut desks, to hickory river tables with LED lights and extendable leafs (with LED light up capabilities), and conference river tables with CNC engraved logos.
CVCF builds custom furniture for people that have an interior design concept they want to bring to life. While furniture retailers claim they sell furniture that will make this happen, we suggest that you have 100% real and authentic custom furniture custom built for you.
If you design your own furniture, our craftsman will incorporate the colors, textures, woods, drawers, panels, metals, fabrics, shelves, textures and shapes you desire for your dining table, wardrobe, bed, sofa or chair. At the end of the day, when a customer designs their own furniture they should get exactly what they want – not furniture in stock that a furniture retailer is trying to sell.
Designing your own furniture is more than simply taking measurements so that the piece of furniture or suite of furniture will fit into the space you have available in your abode. Learn more about drawing your furniture design here. Designing your own furniture extends beyond the size, shape, color and upholstery. You can learn how to design furniture by using the MIT OpenCourseWare available online.
When you design your own truly custom furniture, you do more than choose from a wide selection of materials, woods, finishes, leather, fabrics and hardware. If you are really serious about designing your own furniture, you can apply online for the SCAD furniture design program. If you simply want to order customizable furniture that is in stock from a company that will ship it in a few weeks, click here.
Designing your own furniture is completely different than going online to customize chairs, tables, sofas and beds that are already stocked in a warehouse in the USA. If you admire the perfection and quality of your furniture design and want your design published and promoted, you can submit your concept stage or realized furniture design to the A' Furniture, Homeware and Decor Items Design Competition.
If you want to download free furniture plans, click here or here. Learn how crowdfunded furniture is assisting furniture designers develop new products that are sold on Made.com.
You can design your own couch, table, bed, desk or chair and then send us the design. Once we receive your design, we can provide you with a quote to handcraft your furniture and install it in your home, cabin, RV or business. To learn more about submitting your custom furniture design, click here.
If you want to design your own couch or ottoman, CVCF can build the sofa perfectly to the exact dimensions you specify and our furniture makers will use all of your favorite materials. If you are considering making your own patio, deck or outdoor furniture, you can sketch out a drawing, submit the drawing to CVCF and our fine furniture makers will custom build it and assemble it for you. You are dreaming of your individual TV-Sideboard, wardrobe or individual cabinet? Plan furniture with TrunAPP.
When you buy completely 100% custom furniture or a woodworking project from CVCF you choose ALL the materials and you also approve the design drawings. See pictures of the different types of handmade solid wood furniture and custom metal furniture you can buy in the USA. Prices start at $229.
CVCF is a custom high-end wood furniture maker. We design and build one-of-a-kind handcrafted furniture from a wide range of materials including solid wood, glass, metal and steel.
If you can visualize and specify the furniture size, furniture shape, species of wood, fabric and fasteners, CVCF can handcraft your furniture by hand in the USA. When you design your own furniture you do more than select from a color swatch and choose a silhouette or fabric. When you design your own furniture, you should be able to do more than take size measurements and go online to customize your order by choosing from in stock furniture styles, materials and fabrics.
You should be able to specify every last detail and the exact dimensions, down to the inch. Building your own furniture goes beyond going online to a furniture company's website to select cushions, bases, arms and pillows for a couch. If you want to actually build your own furniture, CVCF can handcraft and assemble it for you.
Some furniture manufacturers and retailers in the U.S. offer to create exactly the furniture you want. In realty, they don't offer you unlimited options like CVCF does. These furniture websites offer you a choice of trim, finishes, fabrics, models, textiles, upholstery or leather, but they don't actually build and assemble 100% custom furniture.
You can use an online design studio website to explore hundreds of fabrics and finishes for a chair, but only CVCF will make the chair to your exact design requirements. While you can't exactly build your own furniture online, you can use software on the web such as Sketchup to design the furniture that the carpenters and woodworkers at CVCF will build for you.
You can find decent and highly qualified woodworkers who sell made-to-order furniture on CustomMade.com but most of these merchants are offering made-to-order products which are normally size-adjusted replicas of furniture they have already made. Additionally, these vendors normally will not provide assembly services throughout the USA.
Most local and regional furniture makers showcased on furniture maker directories would be a bit surprised if you submitted your furniture design to them. Some furniture companies suggest that you can build your own sectional sofa, but they don't mean that you can actually design it yourself and that they will handcraft it from scratch and assemble it for you in your home or business. CVCF can make the furniture you design. If you want help designing wood furniture you can read tutorials here.
Chagrin Valley Custom Furniture sells and manufacturers one-of-a-kind handcrafted furniture and other wood projects to customers throughout the USA. You can order handmade solid wood living room furniture, kitchen and dining furniture, accent furniture, office furniture and bedroom furniture by calling 440-591-5511 or you can request a quote.
Popular online retailers of high-quality furniture misrepresent their furniture as custom because they don't actually manufacture the sofa, chair, table or bed to match your precise design requirements. They allow you to mix and match in order to "make it yours", but they will not manufacture the furniture just the way you designed it.
Online retailers of custom furniture may let you choose from a selection of leather colors, fabrics, wood, wood stain, size, leg options or orientation, but they don't have furniture makers that will collaborate with you to build your furniture from the ground up.
Yes, you can order a custom sized modern sofa online, but that is not the same as designing your own furniture, submitting your furniture design to CVCF and then seeing the exact furniture you envisioned assembled in your home.
We design and build custom furniture hand-in-hand with you and build it to your exact home or office specifications. We passionately build custom mudroom cabinets and benches, and entry furniture, Mid-Century Modern furniture, patio furniture, bathroom furniture, bar furniture and bar tops, kid's furniture, game room furniture, pet furniture, unfinished furniture, home decor, sectionals, sofas, chairs, ottomans and benches in our manufacturing facility in Cleveland, Ohio.
You can buy space-saving storage solutions and bookcases online by choosing from a few different heights and wood types, but only CVCF allows you to submit your modern custom furniture design in order to have the furniture made the way you want. Have rustic and modern furniture custom built for you in Cleveland, Ohio. We ship custom built deck furniture, solid wood table tops, outdoor furniture, live edge bar tops and wood slab countertops to customers all across the country.
Learn More About Custom Furniture
MYDOMAINE, founded in 2013, is a great shoppable online publisher website to visit if you want some chic furniture design ideas and advice. They make an aspirational life achievable for every budget. Check them out on Instagram, Facebook and Pinterest.
Furniture Featured On MYDOMAINE [12/08/20 Prices]
Get inspiration for customized and personalized furniture tailored for your lifestyle at BoConcept. If you are choosing a new sofa or creating a dining setting design your own furniture here. First, select a style, then take size measurements and choose materials and fabrics. Get free input from a BoConcept Design Consultant and use their free design service, here.
Customized furniture is when dimensions are changed or some part of the design is changed on an existing piece by a manufacturer. This is what we do at Nathan Anthony! For the designer, customized furniture is less time-consuming and less-costly than custom furniture generally. Read more here.
Plan Well. Before you even begin shopping for custom furniture, it's crucial to spend time thinking about the layout of your space. Know What's Worth Customizing. Always consider placing custom furniture in spaces like bedrooms and dining areas that are used frequently. Read more here.
For a long time, the only way to get custom furniture was to commission a designer or craftsman to build something just for you (let's not even talk about what that would cost or how much trouble it would be to procure). Luckily, a whole host of companies have emerged to fix this very problem, making it easier, cheaper, faster—and not to mention, way more fun—to mix and match patterns, finishes, sizes, and shapes to create a piece of furniture that's perfect for you and your space. Now the world is your oyster! Or, at least, your living room is. Here are some of our favorite companies making custom furniture more affordable. Read more here.
You don't need to spend your life savings on a nice set of chairs. You know you've reached a certain point in your adult life when you're ready to graduate from the pieces you accumulated for your dorm room to more long-term furniture options like an investment piece from West Elm. But did you ever consider going bespoke? No, we're not talking about a $20,000 George Nakashima dining table—but rather a whole subset of smaller, boutique craftsmen who make the big-box options look like they're giving you very little bang for your considerable buck. Read more here.
A growing number of e-commerce companies are offering personal choices at affordable prices. Customization has always been part of home furnishings. Urged on by their clients, interior designers seek out luxurious fabrics and collaborate with workshops to design special pieces. And even mass-market items like Crate & Barrel sofas come with size, finish and upholstery options. But in almost all situations, the more personalized the piece, the more you will have to pay, and the waiting time for made-to-order is months. It doesn't have to be that way. A new wave of e-commerce furniture companies, including Inside Weather, The Inside, Interior Define and Benchmade Modern, are promoting speedy customization for all. To buy a sofa in Inside Weather's online store, shoppers choose among a dozen arm styles, including fat upholstered perches and grooved timber slabs; upholstery options like woven linen-and-polyester fabrics and vegan leathers; and details like tufting and stitching. Read more here.
Custom furniture is a cornerstone of the interior design world. Its ability to meet specific dimensions and requirements gives it a significant advantage over store-bought furniture. The design and manufacturing is a two-way process between supplier (like Arin International) and client. When it works, the final product should prove to be the perfect fit for the project. Within this collaborative approach, there's a whole host of advantages in using custom-made furniture: Unique Style, Practicality, Quality, Visualize Designs Before They Are Built, Custom Hardware And Environmentally Friendly. Read more here.
Anna Wright-Hands thinks it's time customizable furniture became more accessible to the masses and she's hoping to change that with her new business Made By You. What's more, she's doing it in a sustainable way, right here in Australia, using real timber. "If the timber furniture industry was restaurants, we'd be the really good cafe between fast food and fine dining; basically flatpack furniture that looks high end, but without the price tag, and everything is customizable online!" Read more here.
Find Handmade And Custom Built Furniture Near You
Furniture Makers Near You
Custom Wood Furniture Near You
Custom Wood Furniture Makers Near You
Custom Made Furniture Near You
Custom Built Furniture Near You
Custom Furniture Builder Near You
Find a local custom furniture designer, nearby custom furniture builder or a convenient custom furniture maker near you. Find custom made and handcrafted furniture, custom office furniture, custom Amish furniture, custom farmhouse furniture, custom furniture paining, custom furniture stores, custom furniture upholstery and custom outdoor furniture here.
Buy And Sell New, Inexpensive, Affordable And Used Furniture Near You Locally In The U.S. And Online Here