Custom Built River Tables, Epoxy Resin Dining Tables & Countertops $1,900+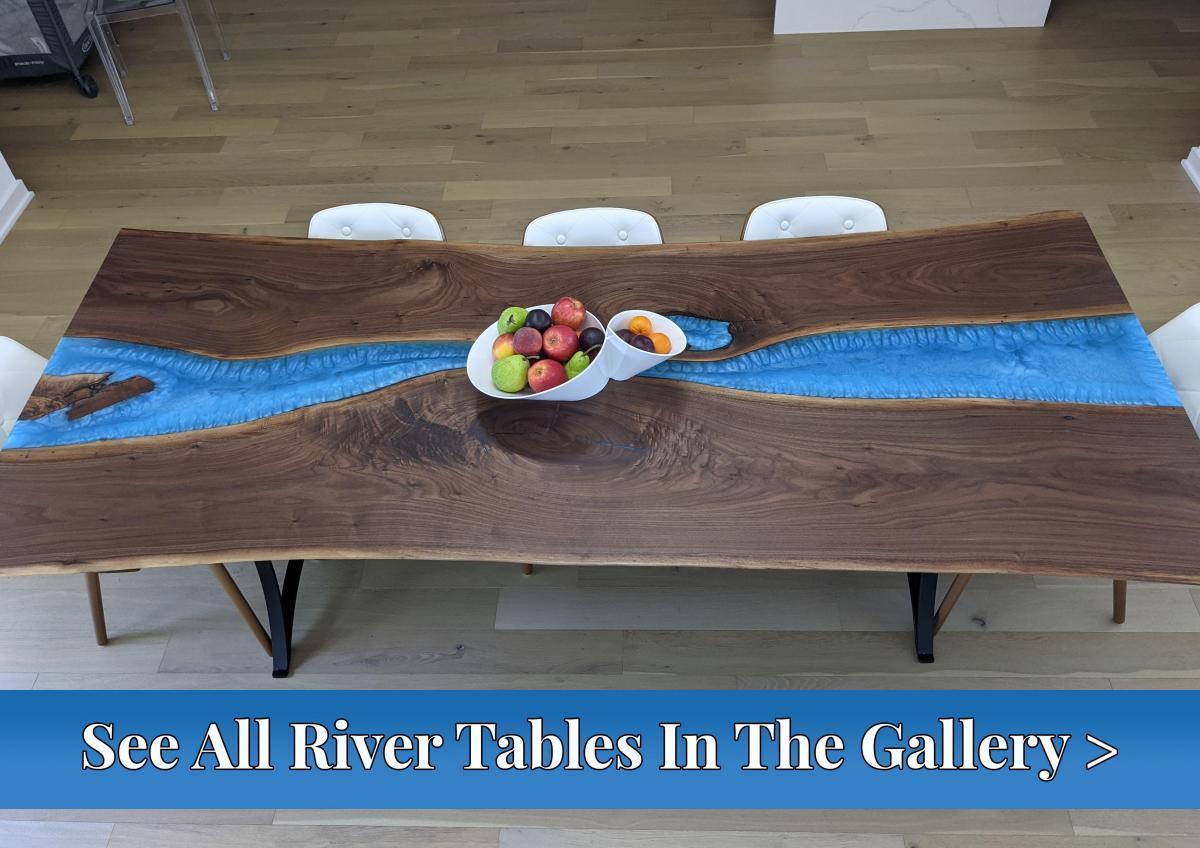 Extraordinary River Tables. Informed By Nature And Inspired By You
You can buy a custom built epoxy resin river and live edge wood dining table for sale online or locally (US only) from Chagrin Valley Custom Furniture. Prices for small river tables start at $1,900+. Submit your design idea and get a quote.
Browse the CVCF epoxy resin river table online store and gallery for design ideas for a your new custom built epoxy table, river table or piece of custom furniture.
CVCF artists, craftsmen and designers build amazing custom epoxy resin river tables and live edge wood furniture for customers throughout the United States. CVCF river table builders specialize in creating unique walnut river dining tables and high quality handmade kitchen countertops. Black walnut river tables are for sale here.
CVCF river table makers love to embed rocks and stones into epoxy resin rivers. CVCF river table designers have years of experience at incorporating LED lights into custom made epoxy resin river tables when a customer requests this feature.
We handcraft custom made conference tables in any shape or size, as well as trendy epoxy resin ocean tables. We are experts at using CNC machines to carve custom logos, branding elements and other custom design features into various pieces of custom furniture.
At our woodworking facility outside Cleveland, Ohio, our customized river tables take shape as black walnut dining tables, coffee tables, nightstands, kitchen tables, conference tables, kitchen islands, kitchen countertops and desks. Rivers can also be custom made into other types of epoxy resin and wood furniture, such as wall art and headboards.
Each unique river table we create is handcrafted by our team of woodworking specialists using only the highest quality materials made in America. The solid hardwood slab that you select from our massive inventory has been air-dried and kiln-dried for up to two years to remove moisture that causes warping and other problems. The environmentally-friendly resins and epoxies that go into our tables come from highly respected U.S. companies like Ecopoxy and Totalboat. And, for our finishes, we apply the most durable catalyzed lacquer that Mohawk Finishing Products has to offer. Visit our materials page for more information.
If you're interested in having us make a custom river table just for you and just the way you want, you can submit your furniture idea, sketch, or rendering by filling out the form at the bottom of this page. Or you can request a build based on one of our customer's past designs – some of which can be found below. Still not sure what you want? Explore our gallery for inspiration for your custom wood and epoxy table.
To learn more about how we price our river tables, visit our prices page. Call 440-591-5511 or email zach@chagrinvalleycustomfurniture.com to receive a quote for a custom made river dining table or for custom built epoxy resin and wood furniture. You can buy a custom built river table online or locally near you in the US at a Chagrin Valley Custom Furniture shop. CVCF makes live edge epoxy resin river tables, black walnut dining tables, kitchen islands and handmade coffee tables.